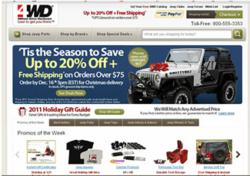 Columbiana, Ohio (PRWEB) December 20, 2011
4Wheel Drive Hardware, the nation's largest mail order and Internet distributor of Jeep parts and accessories, has updated the navigation on its e-commerce site, 4WD.com, to make it easier for Jeep owners to find the parts and accessories they need. The new navigation system features a large drop-down menu that segments thousands of products into about 20 categories. Top-level product categories include replacement parts, bumpers, drivetrain products, lift kits, and exterior parts.
Automotive e-commerce sites often prompt users to specify a vehicle type before showing certain application-specific products. 4WD.com has streamlined this process by implementing one-click selection for the most popular Jeep models. These models include Jeep Wranglers, CJs, vintage Jeeps, and select Cherokees. Users also have the option of selecting year, make, and model from drop-down lists.
A robust, on-site search engine provides another means of finding Jeep parts and accessories. Jeep owners can search by product name, category, or even part number. An auto-fill feature in the search box presents options that adjust as the user types additional characters.
Other options on 4WD.com's main navigation bar include "Shop by Brand" and "Shop Special Deals."
4Wheel Drive Hardware serves Jeep owners and enthusiasts with an industry-leading selection of Jeep accessories, including hard-to-find replacement parts and hardware. Jeep enthusiasts can shop Jeep parts at the 4Wheel Drive Hardware showroom in Columbiana, Ohio or at 4WD.com. The retailer also supports its customers with a call center and a printed catalog.
4Wheel Drive Hardware stays involved in the Jeep community through events, promotions, and social media activity on Facebook, Twitter, and YouTube. Jeepers can learn about upcoming events and promotions on these social media sites or by visiting 4WD.com.
About 4Wheel Drive Hardware: 4Wheel Drive Hardware has been a leading provider of Jeep tops, Jeep fender flares, Wrangler tires, Jeep lift kits, Wrangler parts, and other Jeep parts and accessories for more than 30 years. 4WD.com has the parts and products needed for any personal Jeep project. For more information, visit 4WD.com or call 800-555-3353.
###