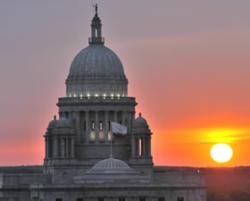 It's quite an honor to be chosen to help the reapportionment commission. Redistricting work is complicated, but we specialize in complex, database-driven websites of all kinds.
Manassas, VA (PRWEB) December 17, 2011
The top website development team at Affordable Web Design and Marketing Inc. (AWD) is providing ground-breaking technical support for the online facet of the Rhode Island State Redistricting Project, located at http://www.riredistricting.com. AWD was selected by the Rhode Island General Assembly and Election Data Services, Inc to handle the online and interactive aspects of the redistricting process, which is constitutionally required based on the results of the 2010 Census. AWD's website development team engineered functionality into the site that enables residents to upload their alternative redistricting maps, and a section that enables website visitors to view redistricting meeting videos, and a research section that residents can use to learn more about the census statistics behind the redistricting process.
Kimball Brace, the president of Election Data Services, whose company has assisted Rhode Island with the redistricting processes of 1983, 1990 and 2000, says that the Affordable Web Design and Marketing team was selected based on their ability to construct and manage technically complex, data-rich, but user-friendly websites. "Every ten years, after the latest census comes out, the State of Rhode Island is required by the constitution to realign districts to equalize representation at the state and federal levels. It's an enormously complicated and tricky process that involves a lot of moving pieces. AWD was the right web development company to help us create an online portal for residents and policy makers to exchange thoughts, maps and proposals during this round of redistricting because they have a track record of handling complex websites that people find easy to use. Our hope is that residents who find it hard to get out to meetings will find this a good way to increase their participation and involvement in the democratic process here in Rhode Island."
Lewis Yildirimturk, founder and CEO of Affordable Web Design, says that he and his web development staff are proud to have been chosen to support the online aspects of the Rhode Island redistricting process: "It's quite an honor to be chosen to help the reapportionment commission. Redistricting work is complicated, but we specialize in complex, database-driven websites of all kinds. Our big goal here was to help the commission and Rhode Island residents have another way to interact with each other on this important issue. Our website design creates a great online working space for that to happen."
Mr. Brace points to the "Contact Us" link on the website that enables Rhode Island residents to upload their own ideas for reapportionment maps and interact with members of the commission as one area that has been particularly helpful. "We have gotten a lot of feedback from residents. We've also had several residents comment on how much they appreciated being able to view the meetings online. Even if they can't make a meeting, they can still see what we talked about and interact with us about those issues. The web design itself is helpful in that it's user-friendly and able to handle a lot of data. The folks at AWD are very professional, creative and up to the challenge we presented, and we're glad to be working with them."
Affordable Web Design and Marketing, Inc. has been designing complex, data-driven websites for a wide range of clients since 1998, including government, medicine, education, law, aerospace, real estate, telecommunications, retail, distribution, special events, civic associations and more. Mr. Yildirimturk concludes, "My web development team and I are very proud to be able to create highly-useful websites for so many diverse organizations. It's exciting to know we are making a positive impact this way."
Affordable Web Design and Marketing, Inc.
Web: http://www.affordablewebdesign.com
E-mail: sales(at)affordablewebdesign(dot)com
Toll Free: 1-800-929-8611
###