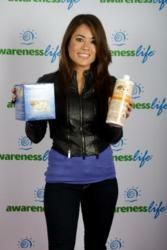 Los Angeles, California (PRWEB) December 17, 2011
Pure Trim, the weight loss branch of Awareness Life is releasing a new product called "PureTrim Truffles." Awareness Life is America's leading wellness brand, with a mission to "Improve world health, one family at a time."
Awareness life wants to make it as easy as possible for people to stay on track during their weight loss routines.
PureTrim Truffles are a great way to get a delicious and nutritious jumpstart on health and wellness goals. The product is gluten free, has 25 calories, and made from organic ingredients. Awareness life products have already been a hit with fitness celebrities, such as Cara Castronuova. The "The Biggest Loser" trainer says of the Truffles, "they leave you feeling satisfied and are packed with nutrients." The weight loss line also features a meal replacement shake, and Castronuova raves, "The PureTrim Wellness shakes are great. I added the shakes to a balanced diet and exercise program and had great results. Plus the portable shaker cup is easy to carry in your bag, so you can have a shake anywhere."
Awareness Life's mission is to work towards a healthier society, the PureTrim Truffles offer a great opportunity to indulge without "undoing" your healthy and active day.
For More information visit: http://www.awarenesslife.net
Media Contact:
Alexis Anderson
631-455-7513
alexis(at)brickroadpr(dot)com
###