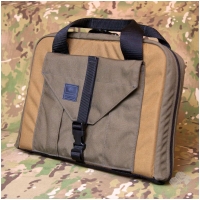 Phoenix, AZ (PRWEB) December 20, 2011
Wilderness Tactical Products proudly introduces two additions to their broad line of tactical gear and accessories with the new Wilderness Messenger Bag and Wilderness Tactical Briefcase. Unlike many of their products designed for outdoor use, the new Messenger Bag and Premier Briefcase are meant to provide a never-before-seen option for customers accustomed to Wilderness' durable quality and unique functionality—including an option for a concealed weapon.
The Wilderness Messenger Bag is a great option for students or those in the workplace who often carry larger items like books, file folders, laptops, IPads or other daily use necessities. Constructed of durable 1000D Cordura Nylon and featuring backstitching at all stress points, this messenger bag is manufactured to last. With its classic flap-over and clasp design and 1 ½" shoulder strap, the Wilderness Messenger Bag securely stores your most often used items while providing flexibility and freedom to its user.
The Wilderness Premiere Briefcase takes quality and functionality to whole new level. Taking several design elements from the recently introduced Premiere Gun Case, the Premiere Briefcase targets those who want to securely transport their IPad or Android tablet while maintaining quick access to their Safepacker Concealment holster.
Also constructed of 1000D Cordura Nylon, the Premiere Briefcase is padded on all outside layers with 3/8" foam and features a polymer reinforced baffle wrapping around the top and both sides. This unique design provides 360 X 360 degree protection to contents and functions in the same manner as the Premiere Gun Case. Inside the briefcase you'll find pockets made of doubled fabric with the main inside pocket featuring 1/8" foam padding. For gun enthusiasts, the optional front bellowed Safepacker storage pocket is designed to allow for immediate, yet discreet access to a firearm.
About Wilderness Tactical Products:
Wilderness Tactical Products, L.L.C. was founded in 1981 to fill the needs of people who demanded durable, high-quality equipment. Their products have been tested from the icy mountain peaks of South America to the blistering Sonoran desert for nearly 30 years and they have proven themselves time and again. Wilderness Tactical Products' branded products have consistently been favorites of serious outdoors people, mountain climbers, search and rescue, American Pistol Institute and Gunsite personnel, as well as armed military, intelligence, police, instruction and civilian professionals around the world. For additional information please call 1-800-775-5650 or visit http://www.TheWilderness.com
Business contact:
Sam Dezonia
602-242-4945
Media contact:
Jason W. Jantzen
Phoenix Marketing Associates
http://www.phoenixmarketingassociates.com
602-282-0202
###