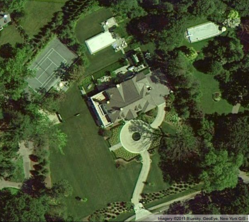 "This should serve to further elevate confidence that the luxury market in Westchester, like NYC, is a blue-chip investment – the last to dip and the first to rebound," says the firm's Broker and Co-Founder Michelle Coletti
Scarsdale, NY (PRWEB) December 16, 2011
Paddington Stone Realty in White Plains, NY, is proud to announce that Lisa Pitt, the company's top associate and Vice-President, recently completed a $10.8 million residential property sale of one of Scarsdale's premier Heathcote Estates. Named the #1 most beautiful home in Westchester by Westchester Home Magazine (Oct. 2010 issue) this 11,600 sqft 7 Bedroom 9 Bath Georgian Colonial Built in 2006 by Cal Petrescu Architecture & Design is situated on a bit more than 2.5 acres and represents the true ideal of suburban upscale living. The transaction marks the second highest residential sale in Westchester since 2008 according to the Westchester/Putnam Board of Realtors' Empire Access Multiple Listing Service.
Lisa elaborates on the sale, "While the ability to broker the transaction plays a huge part, the timing must also be right for both buyer and seller on this level, which it was. This magnificent estate now has a beautiful family to fill the soul of the home." A former Television Producer, Lisa Pitt has represented High-Level Corporate Executives, Domestic & International Relocations, Luxury Homes & Condos, Builders/Developers, Investors, & Professional Entertainers & Athletes throughout her career as a Realtor.
"This should serve to further elevate confidence that the luxury market in Westchester, like NYC, is a blue-chip investment – the last to dip and the first to rebound," says the firm's Broker and Co-Founder Michelle Coletti. "The Heathcote Estate sale is reflective of Lisa's unparalleled work ethic and dedication to providing her clientele with tremendous service. She is extremely deserving and we are over-the-moon to have her as in integral part of our close-knit team."
This deal rests atop several multi-million dollar sales for Paddington Stone Realty this year including the highest priced sale ($2.26M) at The Ritz in White Plains since 2008, where the firm represented both sides of the transaction.
Paddington Stone Realty – 288 Mamaroneck Ave., White Plains NY – O: 914-686-4100 – http://www.paddingtonstone.com
Sale completed in conjunction with Julia B. Fee Sotheby's International Realty's Scarsdale office.
###