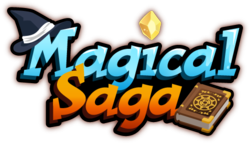 "With Magical Saga, we aim to immerse the player in a world of magic with their friends."
San Francisco, CA (PRWEB) December 19, 2011
GCrest America and game publisher Cyber Agent America today announced the international release of new social game Magical Saga on Facebook. Magical Saga is the first social game developed by GCrest America specifically for the Facebook platform.
Magical Saga elements include rescuing and interacting with townspeople and royalty, clearing ice, building new houses and businesses, and building Magic Towers. The construction of Magic Towers allows players to increase the strength of their magic.
"With Magical Saga, we aim to immerse the player in a world of magic with their friends," says company director Tatsuya Masui. "Drawing from the experience we've gained rereleasing games developed in Japan on Facebook, we've designed Magical Saga specifically for the US market to provide an optimal social gaming experience."
In Magical Saga, the player takes on the roll of a young, aspiring magician who after wandering the countryside returns to his or her hometown, only to find that the town has been blanketed in magical ice by a spiteful witch and the townspeople turned to stone.
A great deal of attention has been put into the design of characters and decoration items in Magical Saga, resulting in a vibrant world that will entice magic lovers everywhere. Features of Magical Saga include:
・Townspeople such as Carl, the gruff town mayor; Flora, a ravishing young flower shop owner; and Merlin, the erudite master magician.
・Detailed relationships between these townspeople, which are revealed as the player completes missions and rescues them from the magical permafrost.
・Dark demons and dragons that appear as the player breaks ice to free the town. These monsters must be defeated with magic, introducing a combative element.
・A wide variety of unique decoration items, allowing each player to creative an original town.
・Social aspects that make full use of the Facebook platform. Players can send gifts to friends, request help from friends, visit neighboring towns, and brag about accomplishments.
Magical Saga is currently available in English and Japanese. Magical Saga can be accessed at: http://apps.facebook.com/magicalsaga/ To learn more about Magical Saga, visit: http://www.facebook.com/MagicalSaga
About Gcrest America
GCrest America is a leading provider of online entertainment. Located in San Francisco, GCrest America is a subsidiary of Tokyo-based online game creator GCrest, a subsidiary of Japan-based CyberAgent, Inc., a leading worldwide developer, publisher and distributor of interactive entertainment for PCs, handheld and wireless devices. GCrest America is behind the popular avatar-based social networking site TinierMe, and has to date released the games TinierMe for Facebook, TinierCafe, Owlbear Garden, and now Magical Saga on Facebook. For more information on Gcrest America and its games, visit http://www.gcrest.com.
GCrest America Contact:
Sarah McNally
mcnally(at)gcrest(dot)com
415-675-1113
###