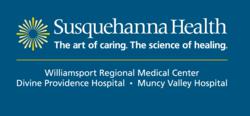 Preventative issues were the most prevalent. We saw a lot of malnourished people.
WILLIAMSPORT, PA (PRWEB) December 19, 2011
The Williamsport Family Medicine Residency Program recently selected and sent two second year residents to participate in its first elective international medical rotation to a Tibetan community in Mundgod, India. In October, Drs. Matthew Meeker and Catherine Boucher flew 13 hours to southern India to work with a team of nine medical professionals from the United States representing Medical Care International.
But their medical work began several hours before they even touched ground on the Asian continent. Dr. Meeker and Dr. Boucher told an audience of 40 peers and faculty that they, along with a resident from Penn State University, responded to a call for medical assistance in flight. The doctors treated an 80-year-old gentleman who was unresponsive and hypoglycemic. They administered an IV and an injection of D50. "We had a patient that we were taking care of the entire flight," said Dr. Meeker.
The resident doctors landed in Mumbai and traveled to Hubli before reaching Loseling Clinic, run by the charitable medical organization Loseling Altruistic Medical Association (LAMA) which is an extension of the Drepung Loseling Monastery. Through the clinic, the organization provides free medical care to the Tibetan monks, nuns and laymen in this poor rural area. According to Dr. Boucher, 19,000 people live in this refugee area and most are farmers with little money or exposure to medicine.
The Williamsport doctors brought along with them medical supplies donated by Glaxo Smith Kline and set up a small pharmacy in the clinic to provide over-the-counter medications like Zantac and acetaminophen (a.k.a., Tylenol) as well as hygienic items including toothbrushes and toothpaste. The doctors also provided a supply of 2,000 pairs of reading and sunglasses (the latter proved to be one of the patients' most requested items).
Both resident doctors were assigned interpreters who were natives to the area to help them communicate with their patients. While the doctors primarily provided acute care to the patients, Dr. Boucher also provided gynecological care to the women and nuns in the area.
In the five-and-a-half days spent in India, the residents assisted nearly 2,000 patients. "We saw a lot of sports-related injuries," said Dr. Boucher who explained that it was likely due to the fact that the young monks were on holiday and therefore allowed to play soccer. Although some of the patients had been seen in the past by Tibetan doctors, Dr. Boucher said "there was something special to them about American doctors that they would come to us for a second opinion."
When asked by Williamsport Family Medicine Residency Program Director Dr. Bradley Miller for suggestions about the program in the future, Dr. Meeker responded that additional health education is necessary for the group. "Preventative issues were the most prevalent, he said. "We saw a lot of malnourished people." According to Dr. Boucher, LAMA expressed a desire to have a team return annually to offer some continuity of care.
Dr. Meeker was most surprised by the lack of medical care for the Tibetan people, specifically the lack of medications like Tylenol that are so easily accessible in America. "Spiritually, I was impressed to see how the Buddhists train and how truly dedicated they are to their spiritual journey," he said. "I was impressed by the gratitude expressed by the patients for the simplest things that we tend to take for granted [in the U.S.]," added Dr. Boucher.
Dr. Meeker is a graduate of Ursinus College and the Philadelphia College of Osteopathic Medicine, Pennsylvania. Dr. Boucher completed her undergraduate studies at the University of Richmond, Virginia and is a graduate of the University of New England College of Osteopathic Medicine. For more information about Susquehanna Health's Williamsport Family Medicine Residency Program, please call 800-837-2011.
About Susquehanna Health
Susquehanna Health is a three-hospital integrated health system including Divine Providence Hospital, Muncy Valley Hospital and Williamsport Regional Medical Center located in northcentral Pennsylvania. Serving patients from an 11-county region, Susquehanna Health is a healthcare leader and has been recognized at the national and state levels for quality of care. Susquehanna Health offers a wide array of services that include cancer treatment, heart and vascular care/heart surgery, neurosciences including neurosurgery, orthopedics, urology, OB/GYN, gastrointestinal services, behavioral health, physical rehabilitation, home care, long term care, assisted living and paramedic/ambulance services.
###