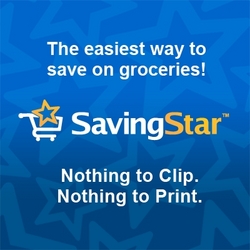 "While most people don't buy deals on tanning salons or teeth whitening every week, everyone buys groceries. Our paperless service makes it easy to save money regularly." - David Rochon, CEO, SavingStar
Waltham, MA (PRWEB) December 16, 2011
SavingStar announced that it has acquired over one million users since its launch in April 2011. The company provides exclusive deals on name brand grocery products linked to shoppers' loyalty cards from over 100 grocery and drug store chains, enabling consumers to save money without the hassle of clipping or printing paper coupons. SavingStar is the only nationwide fully digital grocery savings service, revolutionizing how shoppers access grocery deals.
"In the same way that Groupon created a nationwide platform for consumers to save a significant amount of money with deals from local businesses, SavingStar is creating a platform for them to save at their local grocery store," said David Rochon, CEO of SavingStar. "While most people don't buy deals on tanning salons or teeth whitening every week, everyone buys groceries. Our paperless service makes it easy to save money regularly."
Multibillion Dollar Opportunity
Consumers spend over $550 billion annually on groceries with thousands of consumer packaged goods companies (CPGs) battling for consumer attention. In a tech savvy world, with newspaper distribution on the decline, consumers are increasingly looking to online and mobile services for deals. SavingStar believes that the industry is ripe for change. "Over 99% of paper grocery coupons are thrown away without being used, resulting in over 1 million trees being destroyed each month. What other industry throws away 99% of what it makes?" said Rochon. "SavingStar removes all of the paper and energy waste with offers accessible online and on mobile apps."
SavingStar enables brands to promote their products to SavingStar's audience of grocery shoppers for free – charging only when a product is actually bought. SavingStar receives UPC level data from retailers in its network, enabling it to match offers activated by consumers with in-store purchases linked to shoppers' loyalty cards helping brands close the loop on a promotion's effectiveness in generating sales. With 24,000 stores in all 50 states, SavingStar's network of retailers is over three times larger than any other service offering paperless grocery savings. Since its launch in April, SavingStar has added over 20 retail banners to its list of participating chains which includes Albertsons, Food Lion, ShopRite, Stop & Shop, Winn-Dixie and more.
How It Works:
SavingStar is free to use. Shoppers register their grocery and drug store loyalty cards on SavingStar.com or on the company's iPhone or Android apps and select offers for products that interest them. SavingStar links the offers to all of their registered cards. When shoppers purchase the items and use their loyalty cards at the store, the value of each offer is automatically deposited as savings into their SavingStar accounts, rather than being given at checkout like a typical coupon. Once users accumulate $5 worth of savings in their SavingStar accounts, they can cash out with a direct deposit into their bank or PayPal account, an Amazon gift card, or a donation to the charity American Forests. The company revealed that over 11 million grocery offers have been activated by SavingStar users since its launch.
How SavingStar Is Different From Other Grocery Coupon Services:
Besides its industry leading digital network, SavingStar is the only service that links offers users select to all of their registered loyalty cards at the same time, enabling them to choose where to shop and save. It's also the only service that links offers to loyalty cards from drug store chains like CVS and Rite Aid.
SavingStar is the only service to deliver nationally available grocery offers on iPhone and Android apps. Shoppers can select deals on-the-go or even while browsing the aisles. Finally, SavingStar is the only service that allows shoppers to choose their preferred form of savings from cash, to gift cards, to charitable donations.
Since its launch, SavingStar has featured offers from over 100 brands such as Tropicana, Huggies, Kellogg's, Campbell's, Stonyfield Farm, Kashi, Smart Balance, Welch's, M&M's, and more.
"SavingStar's fast growth demonstrates that people are looking for ways to save money on their groceries using a service that is simple and convenient," said Rochon. "Many people don't have the time or desire to clip or print paper coupons. SavingStar's service makes it easy to save."
About SavingStar
SavingStar is the first and only national, fully digital, grocery savings service, available for free at SavingStar.com and on iPhone® and Android® mobile apps. The company enables consumers to choose where they shop and how they save. Redeemable at over 24,000 stores, SavingStar's offers are linked to shoppers' grocery and drug store loyalty cards and provide a more convenient and eco-friendly way to save on groceries than paper coupons. SavingStar automatically adds the value of each offer redeemed into users' SavingStar accounts, enabling them to pick their payout from cash back to gift cards to charity donations. SavingStar also powers white-labeled grocery savings services, including Upromise and Cartera Commerce. SavingStar is backed by Flybridge Capital Partners, First Round Capital, and other investors. The company is based in Waltham, MA.
###