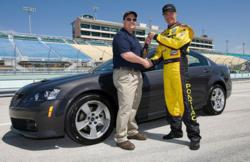 (PRWEB) December 19, 2011
Robert Manna of West Chicago recently won a car for his daughter, Mary Ann and a golf trip for his son Robert Jr. through entries he made on their behalf at SweepstakesToday.com. (http://www.sweepstakestoday.com) Retired as a Sr. Vice President from Continental Bank before it was bought by B of A, mostly enters sweeps for his six children and his wife.
"I'm retired now and I joke with my wife after breakfast every morning that I'm going to work," Manna said today in an interview. He figures he spends two to three hours most days entering (online sweepstakes).
He loves the Sweepstakes Today site he said, "…because everything you need is right there. Plus the other members are so friendly and helpful. It's good to know there are people like that out there."
The prize he won for his daughter was the NASCAR After the Lap sweeps which included an all expense trip to Las Vegas to pick up the keys to her brand new 2012 Ford Explorer XLT SUV valued around $33,000.
"She almost didn't win," Manna said, explaining that his daughter lives with her husband in Lombard, IL. "When they called to tell her she'd won they called from an 800 number. Four times her husband looked at the caller ID and refused to answer. On a whim, Mary Ann picked up the call on the fifth try – fortunate because in this sweepstakes they would only try five times. If she hadn't answered they would have moved on to another prize winner."
Thanks to his father's entry, Robert Jr. won an all expense paid trip for two to Naples, Fl for golf with Greg Norman. "Robert tells me Norman is a real down to earth person," Manna Sr. reported.
Manna has been sweeping for years. He estimates his total wins to date to be valued at close to $200,000, most of which has gone to his kids. Included in prizes give to his children was the Pontiac G8 from Crown Royal at the Grand-Am Rolex Sports Car Series race.
"I like to feel I can still do something for them even in retirement," he commented.
###