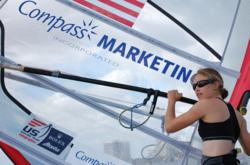 "I'm not surprised at the resounding level of success Farrah has managed to achieve. I'm excited to see all of her hard work and determination pay off. I look forward to cheering her on in London this summer."
Annapolis, MD (PRWEB) December 16, 2011
Compass Marketing-sponsored women's windsurfer Farrah Hall has been selected as one of five athletes nominated to the 2012 U.S. Olympic Sailing Team. The athletes—who each compete in different sailing classes—were selected after the ISAF Sailing World Championships in Perth, Australia.
"I'm so happy to make it onto the U.S. Olympic team," Hall said. "Going to the Olympics has been a dream of mine for so many years and I'm so excited to have finally made it!"
Hall, currently the top-ranked women's RS:X windsurfer in the U.S., expressed the positive effects that training has had on her recent performances. "The work we have been doing has made an impact on my confidence –I have much better overall board handling and speed," she wrote.
Hall's teammates also include brother and sister Zach and Paige Railey of Clearwater, FL, Stuart McNay of Boston, MA and Graham Biehl of San Diego, CA. All five were the top-scoring athletes in their respective sailing classes at the ISAF Championships.
"All five athletes have demonstrated determination, drive, and the commitment required to win Olympic medals," said Olympic Sailing Committee Chairman Dean Brenner. "They worked full time to earn the right to represent the USA at the 2012 Olympic Games. I can speak on behalf of the OSC, US Sailing's Board of Directors, our staff, volunteers, friends and family when I say how I proud I am of each and every one of them."
John White, Chairman & CEO of Compass Marketing has been proud to sponsor Hall for many years: "I'm not surprised at the resounding level of success Farrah has managed to achieve. I'm excited to see all of her hard work and determination pay off. I look forward to cheering her on in London this summer."
About Farrah Hall
A natural from the start, Farrah Hall acquired a love for the water when she began sailing small sailboats at the age of 13. A devoted athlete, she participated in sports from soccer and lacrosse to basketball and swimming. Hall became involved with triathlons at age 16 and participated in local Olympic distance events around the state of Maryland. Her love of sailing continued throughout her college career at St. Mary's College in Maryland—a school known for its sailing program.
Hall shifted her focus to windsurfing and, in the summer of 2002, she started racing and moved to St. Petersburg, Florida where she began her Olympic campaign. In January 2011, Hall earned the number one spot in the Miami OCR and recently finished training in Cadiz, Spain with teams from Poland.
About Compass Cares
Compass Marketing has a long and active history of giving back to the community through its Compass Cares foundation. The foundation has worked with various causes including JDRF, the United Way, the Chesapeake Bay Environmental Center, Pathfinders for Autism, Cystic Fibrosis, the International Foundation for Research and Education on Depression (iFred) and many others. Compass Cares brings together clients, customers, employees, family and friends to make a difference.
About Compass Marketing Inc
Compass Marketing, Inc. is a leading strategic advisor to America's largest consumer products companies, headquartered in Annapolis, MD. For more information about the company, visit http://www.compassmarketinginc.com.
To learn more about Farrah Hall, go to http://www.farrahhall.com, become a Farrah Hall fan on Facebook and follow her blog at http://farrahhall.blogspot.com.
###