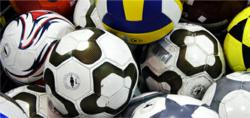 A unique Internet search engine for upcoming sports events.
(PRWEB) December 19, 2011
ETazaker is a start up company, a unique Internet search engine for upcoming sports events, worldwide. A separate research organization found that ETazaker as No. 1 for ticket availability this weekend after a study made across 10 sports event booking based websites.
For most English readers Tazaker means Tickets in Arabic. A web site that enables Arab users to search for major sports events by location, league and event. It is a powerful tool for tourists and travelers who wish to add watching live sports to their trip.After choosing a sports event to his (or her) liking, the traveler can book a hotel or a flight and even purchase tickets for every match on database. It is a one-stop tour-planning device that a growing number of people find useful to their needs.
ETazaker offers information on approx. 22,000 sports events worldwide (on annual basis), that will take place in 750 cities in 105 countries. The site displays:
1: Football - first division football matches in 15 European countries, Champions
League, UEFA Cup and EURO 2008 qualifications – all over Europe, Plus the upcoming FIFA 2014, EURO 2012 and for Qatar's World Cup 2022.
2: Tennis – Grand Slam, Masters, ATP, WTA Davis and Federation cup.
3: Motor Sports - Formula 1, Nascar, MotoGP.
4: American Sports – Football, Baseball and Hockey.
5: Cricket - World cup, Ashes and more.
6: Rugby - World cup, Heineken cup, Tri Nations, Six Nations and more.
7: Basketball – NBA and first division matches in 6 European countries, Euroleague,
ULEB Cup– all over Europe.
The research shows that users of ETazaker can search for sports events at a specific destination (search by country, search by city) and receive a full list of sports events for that destination as well as for nearby cities, up to a distance of 140Km while other websites are limited to one of the previous parameters. Also the study shows that the database contains additional information such as the exact date and time and the exact location of the event including means of transportation, maps and venue charts which are helpful overall to the sports event booker.
ETazaker incorporates a full operative search engine for upcoming sports events in Arabic and English. The site is used regularly by thousands of people as part of their tour planning process. Work on turning http://www.ETazaker.com into a multi-lingual site is in progress and a few White Label agreements were signed with leading bodies in the tourism industry, from several countries, all over the world.
# # #