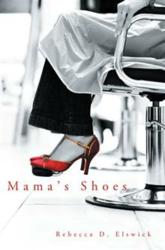 Grundy, VA (PRWEB) December 21, 2011
Although the "occupy" movement is focused on the wage gap between the richest and poorest classes of workers, the New York Times, in a report called "The Gender Pay Gap by Industry," points out the shocking persistence of a gender pay gap as well. This coupled with the pressures and expectations of being a modern woman give women numerous worries to deal with. Seeking to uplift female readers, Rebecca D. Elswick, winner of the Writer's Digest #Pitch2Win contest, offers a touching, emotional and inspirational story of family and motherly bonds in her new novel, "Mama's Shoes" (published by Abbott Press).
Elswick introduces readers to her female protagonists, Sylvia and her daughter, Sassy. In 1942, during World War II, Sylvia is an 18-year-old widow raising a daughter on her own. Stuck in the coal mining town she vowed to leave behind, Sylvia raises Sassy amidst the ruins of her broken dreams. But as Sassy enters her teenage years, Sylvia's drinking, smoking and excessive dating shape the young girl, forcing her to face her own troubles and to come to terms with her mother's inefficacies.
Spanning 20 years, "Mama's Shoes" is a haunting saga of love, despair and forgiveness as a cadence of female voices weaves a spell of mountain lore and secrets, defines family as more than blood kin, and proves second chances can bring happiness.
Writing to inspire women, Elswick hopes readers "to see that the small things in life, like getting your hair done at the beauty shop, can make the difficulties of day-to-day bearable." With "Mama's Shoes" Elswick, a successful and inspiring woman in her own right, shares an uplifting story, showing women that, with a little hard work, they can make their own dreams come true.
About the Author
Rebecca D. Elswick, the daughter and granddaughter of coal miners, was born in the southwestern Virginia coalfields where she still lives today with her husband and three children. "Mama's Shoes" is her debut novel. Elswick teaches English, creative writing, and photojournalism, and is a teacher consultant for the Appalachian Writing Project at the University of Virginia's College at Wise. Her work has appeared in periodicals and anthologies. In 2010 she won first and third place in the Appalachian Author Guild's short story contest. In 2011 she was the first place recipient of the Sherwood Anderson Short Story Contest.
Abbott Press, a division Writer's Digest—the oldest and most respected publisher devoted to the education and advancement of writers—is an indie-publishing imprint dedicated to helping writers bring their literary vision to print. Author Solutions, Inc., a leader in indie book publishing, will fulfill publishing, sales, and marketing services for Abbott Press. For more information, or to begin publishing a book today, log on to abbottpress.com or call 866-697-5310.
###