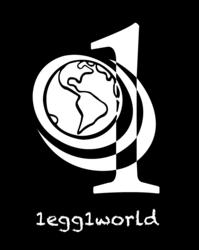 from little things big things grow
Melbourne, Australia (PRWEB) December 19, 2011
Starting with just one egg, three Australian students are well on their way to raising one million dollars for charity with the help of their pet chickens. The fundraising initiative appropriately named '1egg1world' has the plan to raise the ambitious $1million target through trading up. After just 10 trades they are now in possession of $20,000 AUS and are seeking their next swap and are currently calling on offers.
'Trading up' is the process of trading one item for another item of greater 'value.'
Starting with an egg, the 1egg1world team made their first trade for a CD, and then traded the CD for a Board game and they have continued to trade, growing each time in value. Other trades so far have included a Toyota Camry, an African Safari for two and a portrait by famous Australian Artist Craig Ruddy of Cathy Freeman (Australian Athlete). For the 10th trade the students put the Craig Ruddy portrait up for auction, which raised $24,000, of which $4,000 went to the auction house.
With $20,000 the students are now looking for their next big trade and are calling on offers however big, small or unusual.
1egg1world has already received one exciting offer by Glenn Singleman who offered an adventure package of a lifetime as seen attached.
The boys are also targeting a celebrity experience but are open to all offers such as a movie role, record contract, holiday experience, classic car, plane, boat, campervan, race horse, property or whatever else may be of interest to the wider public. 1egg1world co-founder Josh O'Meara stated that the team is willing to consider offers from anywhere in the world. Mr. O'Meara said "Money (as a trade) gives us real freedom and we know that it will excite a lot of people, so we're hoping a lot of people come forward with offers. "Offers, no matter how silly, are what makes the experience interesting; we love debating our different options, so shoot us your best offer."
To find out more, including the beneficiaries, to request an interview or to make a trade offer - visit http://www.1egg1world.org and join the ambitious students and their chooks on Facebook and join them on their journey.
###