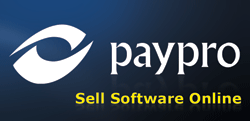 PayPro Global has a special approach to every single client regardless of their business size. We constantly monitor and optimize their selling process and provide active consultations in order for them to fulfill their endeavors
Toronto, Canada (PRWEB) December 16, 2011
PayPro Global, the leading global provider of innovative tools and services to sell software online announced today its partnership with ACPsoft, a software company that produces high quality tools to efficiently convert between various file formats without compromising on quality.
"The reason we chose PayPro Global was a very positive approach to clients, flexibility in dialogue and ability to quickly and easily solve current tasks. Also, we were pleasantly surprised by the quality of PayPro Global's Lead Management tools that allow to recover customers who didn't finish the purchase or abandoned their shopping carts," said Pavel Goncharov, Chief Marketing Officer of ACPsoft
PayPro Global's eCommerce solution helps software vendors to optimize their marketing and payment processing, as well as significantly increase their revenue and conversion rates by offering a number of unique tools, such as Cross-Sale Pop-Up, Lead Management tools, advanced real-time reporting and advanced API. PayPro Global constantly introduces new features, often in response to customer feedback.
"Another key factor that made us choose PayPro Global, were the recommendations of our fellow vendors who have been using PayPro Global to increase their online sales," continued Pavel Goncharov.
"PayPro Global has a special approach to every single client regardless of their business size. We constantly monitor and optimize their selling process and provide active consultations in order for them to fulfill their endeavors," said Matthew Silverman, CEO of PayPro Global.
About ACPsoft
ACPsoft is a software company specialized in creation of products that facilitates the conversion of various file formats between platforms without compromising on quality. It is a simple solution for document processing which allows editing and modifying any document, even if it is protected. Thanks to an intelligent algorithm developed by ACPsoft, the PDF Converter software generates high quality documents that are undistinguishable from the original.
PDF Converter is available for download on ACPsoft official website
http://www.pdfconverterdownload.org/
About PayPro Global
Founded in 2006, PayPro Global, Inc. develops and hosts an eCommerce solution that allows anyone to easily sell software online. PayPro Global supports more than one hundred currencies, all major credit and debit cards, and a wide variety of payment options. The company also offers software developers state-of-the-art licensing, activation, and anti-piracy protection for their applications.
PayPro Global is headquartered in Toronto, Canada, with development centers in Ramat Gan, Israel and Lugansk, Ukraine, and regional offices in Milwaukee, USA, and London, UK.
Website: http://www.payproglobal.com
###