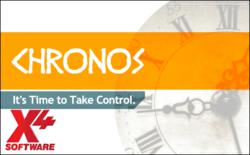 With Chronos the dilemma is over
(PRWEB) December 18, 2011
Chronos™ Controls the times staff can use social networking (or any other) web sites.
Users of social networking sites can spend hours accessing their profile, checking in with friends, responding to new comments and answering emails. It can be a very addictive routine.
It is because of the time spent and potential security breaches that some organisations have banned access to social networking sites completely to the dismay of unions and staff alike.
Chronos is the fairest way to handle the new Social Networking phase and indeed any other next big thing when it arrives!
Chronos is a network application that very quickly lets you set a range of time restrictions to the internet or specific sites and apply them to either a PC or user account via templates.
Templates are easily created that let you associate start and end times for specific web sites like Facebook, Myspace, Bebo etc or deny access to everything and only allow access to specific sites.
You Can create different templates for different users, PCs, or departments this allows you to be flexible and accommodate any individual internet browsing problems.
It's the perfect solution in any educational or business environment providing flexible, fair and controlled access.
Time is money, and if the overall effect of this activity is a loss in productivity, who is going to pay for it?
Are you going to pay your staff to socialize and waste time on the internet?
Even working on an average salary of £12 per hour, if just 1 employee wastes 1 hour a day, it's a staggering £3,120 in lost wages alone, not accounting for lost productivity.
And when you think that's just 1 on an average salary, the gross result could run to hundreds of thousands even in a small firm.
Chronos is a must for every network and with affordable licensing available you can have a solution installed in minutes.
With Chronos™ the dilemma is over.
###