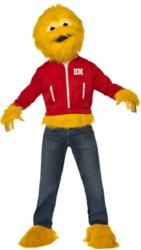 Sales of funny and novelty costumes are up over 200%, with customers dressing up in outfits as diverse as MC Hammer right through to Mr Blobby
Wickford, UK (PRWEB UK) 19 December 2011
According to costume retailer allfancydress.com more and more party goers are gearing up for New Year's Eve celebrations by dressing up in novelty outfits. The retailer has received a significant number of fancy dress orders specifically for New Year's Eve, and it seems that customers are embracing the more outrageous and 'funny' kinds of costumes.
According to Marketing Director Matt Foden, 'The great thing about New Year's Eve is that people seem to throw caution to the wind, especially when it comes to dressing up! Sales of funny and novelty costumes are up over 200%, with customers dressing up in outfits as diverse as MC Hammer right through to Mr Blobby'.
The most popular fancy dress costumes at the present time include the 'Where's Wally' outfits (for both men and women) as well as the recently launched Honey Monster costume. The officially licensed Honey Monster has proved particularly popular. According to Matt, 'There seems to be a real appetite at the moment for costumes that have a nostalgic appeal. Many people have fond memories of growing up with classic ads such as those for Sugar Puffs, and the opportunity to dress up as the incomparable Honey Monster is too good to resist. This costume also has the benefit of being quite thick, which will help to keep you warm on New Year's Eve!'
It seems that party-goers are really getting into the spirit of New Year's Eve 2011, and if the costumes are anything to go by, a lot of fun should be had by all!
About All Fancy Dress
All Fancy Dress is one of the UK's leading retailers of fancy dress costumes and accessories, with an extensive range of well over 3,000 costumes. You can visit their site at:
http://www.allfancydress.com
###