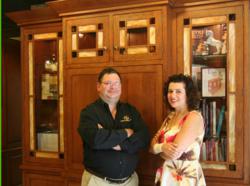 "Sustainable local companies such as Superior Woodcraft, create jobs, strengthen the local economy, and provide needed revenue for schools, roads, and other critical services."
Doylestown, PA (PRWEB) December 16, 2011
Superior Woodcraft, one of 200 businesses nominated for the "Indie," won second place in the online event run by Independent We Stand. The custom cabinetry manufacturer was one of five semi-finalists that competed for the award, which was based on outstanding community support and customer service. Winners were officially announced after an exceptionally exciting online voting competition by customers and fans.
Independent We Stand, an organization sponsored by Stihl, Inc, is comprised of independent business owners from across America. The Indie Award was created to allow customers to celebrate and show appreciation for their favorite local businesses and to shed light on the benefits of buying local. Patrick Kennedy, VP of Superior Woodcraft, and a firm supporter of Independent We Stand stated, "By supporting local businesses we are also investing in our communities." Kennedy continued, "Sustainable local companies such as Superior Woodcraft, create jobs, strengthen the local economy, and provide needed revenue for schools, roads, and other critical services."  Kennedy believes that without a strong local business sector, our entire economy will become weaker.
The final vote tallied was as follows: Howard Brothers - 44,134 votes,
Superior Woodcraft - 37,568 votes,
Maple Ave Restaurant - 30,177 votes,
Tandem Wine & Cheese Bar - 2,019 votes,
Mummphy's Book Nook - 1,371 votes
Kennedy, in his Superior Woodcraft Blog, gave credit to the many customers and fans of Superior Woodcraft who voted during the competition. Shannon Albritton, one such fan said, "The staff at Superior is second to none and they are highly active in supporting their community, country and local food systems. Receiving this award will only help propel their mission of supporting American jobs on the local and national level."
"We've had a lot of fun over the past few days," said Kennedy. "Superior Woodcraft votes poured in from around the world, but even more importantly, from members of the Central Bucks Chamber of Commerce, Doylestown Business & Community Alliance, KCMA, Bucks Mont NARI, IFDA and my loyal, fellow craftsmen at CustomMade.com. Congratulating his competitors, Kennedy said, "Our competitors are all great businesses and strong contributors to their local communities. My hat is off to everyone who voted and to Howard Brothers, Maple Avenue Restaurant, Tandem Wine & Cheese Bar, Mummphys Book Nook and especially to Independent We Stand and their sponsor, Stihl, Inc."
About Independent We Stand
Independent We Stand is a movement of independent business owners across the country to inform their communities about the importance of "Buying Local" and how these efforts bolster their local economy. This movement supports all local and national causes committed to boosting local economic development projects. The Independent We Stand movement is sponsored in part by STIHL Inc. http://www.IndependentWeStand.org
About Superior Woodcraft
Superior Woodcraft, founded in 1967, is a custom cabinet maker located in Doylestown, PA - the heart of Bucks County, PA. A family-owned business, Superior Woodcraft is committed to American manufacturing and its cabinetry is made in America, and utilizes raw materials from the region. A premier source for fine, handcrafted kitchen cabinetry, Superior Woodcraft also creates custom-built cabinets for the entire home, as well as custom, free-standing furniture. To view a stunning portfolio of Superior Woodcraft kitchens, baths, libraries and more, visit their website at http://www.superiorwoodcraft.com
# # #