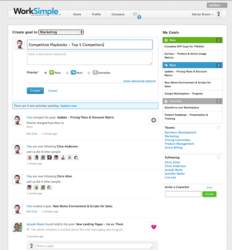 Salesforce.com's acquisition of Rypple shows that Social Performance is the future
San Francisco, CA (PRWEB) December 16, 2011
Salesforce.com made a name for itself disrupting the traditional Customer Relationship Management model. Now, the social enterprise giant is aiming to disrupt the traditional Performance Management model with the acquisition of Rypple. And WorkSimple is pulling in the same revolutionary direction with its Social Goal Management platform.
Salesforce.com's bet on Rypple, a cloud-based social performance management company, signals its aggressive move into the Human Capital Management market. Rypple will get a new name—Successforce—and salesforce.com will work to transform the way companies recruit, manage and empower employees in a social world. Salesforce has one goal in mind: revolution. It's the same goal WorkSimple has been predicting for the past three years.
WorkSimple is the performance platform for the social enterprise. A privately held social performance company backed by Baseline Ventures and Camp Ventures, WorkSimple created the industry's first performance platform based on actual work and goals that happen throughout the workday. It's a platform that sets the stage for agile performance management, which trades annual reviews for near real-time feedback models that drive stronger results.
WorkSimple's vision and platform is on track to fundamentally change the way employee and companies view performance and each other.
"The move toward Social Performance is great news for WorkSimple and the concept of social goals. We have always admired salesforce.com's innovate strategies and we are thrilled to see another forward-thinking player with an entrepreneurial mentality in the Social Performance space," says Morgan Norman, CEO and co-founder of WorkSimple. "We are truly witnessing the beginning of the end of traditional Performance Management."
What Employees Want
It's clear that performance is going social. It's also clear that HR is going social. WorkSimple intersects these functions with a bottom up approach that puts an emphasis on what employees want rather than a top down, static process that can't keep pace with today's work environments—and employees are driving software purchases.
WorkSimple believes technology has to be simple if employees are going adopt it—usability matters. WorkSimple believes employees want to be empowered with an agile performance management process that reflects the specific results they drive for the firm—not just subjective alignment to company priorities.
"WorkSimple has the highest engagement of any HR application in the industry. Employees use WorkSimple weekly not just to share goals, but to offer coworkers recognition and feedback, and to collaborate with other teams in the organization," says Ben Moore, CTO and co-founder of WorkSimple. "Salesforce.com's acquisition of Rypple shows that Social Performance is the future."
The Future Looks Social
Indeed, when a Software-as-a-Service pioneer like salesforce.com enters a market, it signals there is room for disruption. The need for agile performance management is clear. According to Bersin & Associates, 53.8 percent of employees surveyed said their talent management software failed to help them create a performance-driven culture in their organization. WorkSimple sets the stage for employees to love HR again.
"HR technology players like SuccessFactors and Taleo don't understand what modern employees want—or need. That's why they are quickly falling behind when the enterprise curve," Moore says. "Yesterday's HR technology vendors are going the way of the dinosaur as social goals gains momentum. Social Goals is the wave of the future, and WorkSimple is the performance platform for your social strategy."
WorkSimple's Social Goals model has a transformative effect on organizations. WorkSimple is the choice for small and large organizations—and groups within the largest enterprises—that need a new way to share goals, get continuous feedback, and recognize accomplishments. Social Goals is agile—and employee-centric. WorkSimple helps every employee build a professional reputation inside and outside of their organization with tools like Linkedin integration. The way people work has radically changed. WorkSimple helps HR departments embrace the social goals movement.
WorkSimple pricing and availability:
WorkSimple Always Free (Unlimited Users): Social Goals™, LinkedIn Integration, WorkStory™, Feedback, Recognition, Professional Reputation, Teams, and Reporting
WorkSimple Team Edition ($5 per user/month): The Team edition includes all Basic Features, plus Goal Reviews, Goal Scores, and Enhanced Reporting.
WorkSimple Company Edition ($9 per user/month): Includes enhance administration controls and premium support
Supporting Resources
Website: http://getworksimple.com
Sign Up for Free Edition:: http://getworksimple.com
Pricing: http://getworksimple.com/pricing
Follow worksimple on Twitter @getworksimple
About WorkSimple
WorkSimple is the new way to drive performance. Individuals, small teams and large global organizations alike use WorkSimple as a better way to share goals, work together, get and give feedback, and make others shine. The basic version of WorkSimple is free for unlimited users, and includes WorkStory™, Social Goals™, Praise, Get Verified, Feedback, and Activity Steams. Customers can pay to upgrade for additional functionality including Goal Reviews, Goal Score, and Influence. Get started at http://getworksimple.com.
###