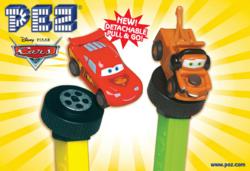 Orange, CT (PRWEB) December 18, 2011
PEZ Candy, Inc. announces that the much anticipated Pull & Go series for Disney's Cars 2 is now available in stores. There are three dispensers in the Cars 2 program: Lightening McQueen, Mater, and Finn McMissile.
The Pull & Go cars are attached to the top of the PEZ dispenser with a magnet and can be removed for play. Just pull them back and watch them go! Reattach them to the dispenser base, designed to look like a car's tire, for safe keeping. Each dispenser also includes 2 rolls of candy.
"We are very excited about this innovative, new dispenser. PEZ truly is a toy and candy all in one," stated Joe Vittoria – CEO of PEZ Candy, Inc. "We plan on adding to the PEZ Pull & Go series in the upcoming years."
About PEZ Candy, Inc.
PEZ Candy, Inc. is the pioneer of "interactive candy" that is both enjoyable to eat and fun to play with. PEZ Dispensers are a hot collectable for adults and children alike and have been a staple of American pop culture for over 50 years. To learn more, visit http://www.pez.com.
If you would like more information about PEZ Candy, Inc., please call Keith Whitaker at (203) 795-0531 x260 or email at whitaker(at)pezcandyinc(dot)com.
# # #