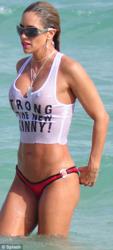 Jennifer Nicole Lee most recently was photographed by paparazzi wearing her latest JNL Clothing t-shirts, shortly after her management team released a statement of global expansion in 2012. For more info, visit www.JNLClothing.com
Los Angeles, California (PRWEB) December 17, 2011
The creator of the latest fitness craze JNL Fusions is also creating big waves in the fitness industry with her JNL Clothing line. She most recently was photographed unbeknownst to her by Miami beach paparazzi who scour the beaches in search of finds as such. JNL started her fashion empire by simply printing her signature motto onto a tank top. Now the famous saying "Strong is the New Skinny" is a hit among fitness enthusiasts alike. She then went onto expand her fun fit and fresh tank top and t-shirt line with attitude shifting sayings such as "Kiss My Abs", "Big Fun", got muscle?", "Earn Your Shower", "Born to Pump", and also for her male customers "Mr. Big".
Jennifer Nicole Lee and her design team shows no signs of slowing down on production with plans to expand into the worldwide internet market with a store front on Amazon.com. JNL and her team will be launching new designs at her 2nd Annual JNL Fusion World Conference, where she will be training her VIP clients and certifying them in the JNL Fusion method.
For more info, visit http://www.JNLClothing.com.
###