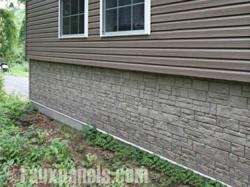 York PVC siding is a DIYers dream thanks to its durability, easy installation and safety factors
Deer Park, NY (PRWEB) December 19, 2011
The York line of PVC siding, newly available at FauxPanels.com, has a trio of advantages over traditional siding options – easy to install, new designs and none of the drawbacks of vinyl siding. For consumers who want safety, style and an economical renovation, York has what they need.
"The York line really is a do-it-yourselfer's dream. It's lightweight yet incredibly durable, and it doesn't have the downside in a fire that vinyl has," said Steve Barron, president of Faux Panels.
Home Siding That Addresses Safety First
While vinyl siding has been used in remodeling and construction for decades, it creates problems for firefighters because it both melts and burns, contributing to the growth of a fire. In a FEMA abstract, the government agency details the problems vinyl siding poses in a fire, especially when an entire neighborhood uses vinyl siding, as it happened in Henrico County, VA. FEMA noted that few firefighters have the special training to deal with this challenge.
York PVC siding comes with a Class A fire rating, which makes it a much better choice for overall safety. Despite its light weight, York home siding is also a great choice for high wind areas because, if properly installed, it can withstand a wind load of 170 mph.
The York line also allows homeowners to break the "cookie cutter" look that usually comes from siding. Since it uses up to eight different molds, repeating patterns and seams aren't an issue and the result is incredibly realistic.
"Homeowners today want their home to look special, not like every house on the block. The random rock molds give them an entirely different look from what they'll find elsewhere in the siding market," said Steve Barron.
Installation of York PVC random rock siding has a lower scrap rate than other siding, which lowers material and labor costs. Because it's easy to install and very lightweight, not only can a DIYer handle the job, but one person could do an entire job alone.
Thanks to its durable construction, York's impact- and fade-resistant siding lowers the odds of it having to be replaced. That makes York an ideal choice for both frugal consumers and aging baby boomers seeking long-term value.
About FauxPanels.com
FauxPanels.com is an industry leader due to wealth of installation guides for DIYers and the best selection of the realistic faux brick, stone and wood panels and columns on the market. Its products have been regularly featured on television shows such as "Celebrity Apprentice" and numerous appearances on "Extreme Makeover: Home Edition." FauxPanels.com is a subsidiary of Barron Designs Inc., a family-owned home improvement business operating since 1972. For more information, visit FauxPanels.com.
# # #