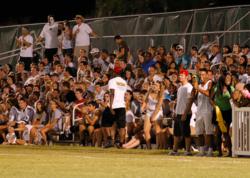 Saint Leo, Florida (PRWEB) December 19, 2011
Saint Leo Lions fans now have greater reason to roar—the National Collegiate Athletic Association (NCAA) has recognized the Florida Catholic university for ROARwards, a student-led incentive program that rewards members of the Saint Leo community for attending athletic events. One of the top-ranked Catholic universities in Florida, Saint Leo University has been honored as one of 10 NCAA Division II Game Environment Award of Excellence winners for 2010-11.
The NCAA has recognized ROARwards for its success in boosting attendance at sporting events and fostering greater school spirit. The awards program is part of the NCAA's broader initiative to stress sportsmanship and improve overall ambiance at Division II athletic events. NCAA will select one national winner at the national convention in Indianapolis in January 2012.
With 17 NCAA Division II teams and over 100 sporting events on campus each year, Saint Leo students have ample opportunities to cheer on the Lions and accumulate ROARwards. Launched in August 2011, ROARwards already has over 650 members—a remarkable feat for a small liberal arts school with about 1,900 students at its main campus, including over 300 student-athletes.
Saint Leo's athletic department began exploring a plan to better engage fans in Spring 2011, but it wasn't until staff passed the baton to a few summer interns that ROARwards came to life. The interns—including two Saint Leo student-athletes—helped create the program, pulling together details from marketing to event execution. Because the program is targeted primarily to students, actively involving them in the planning process has paid huge dividends, says John Semeraro, the Lions' Associate Athletic Director for External Operations.
"Judging by the increased attendance at games, we've already won," says Semeraro. "ROARwards has created a whole new avenue for engaging our fans. We've built an environment where fans can take part in the event, and enjoy their time regardless of the result on the court."
Anyone carrying a Saint Leo ID, including students, faculty and staff, can sign up for a chance to win prizes by attending games. Fans get their card punched any time they attend an event—the more punches, the better the prizes. Past prizes have included T-shirts, hot wings at local restaurants, a drawstring book bag and a 25 percent discount from the Saint Leo campus bookstore.
As one of the top Catholic universities in Florida, Saint Leo fosters a supportive environment where athletes carry a spirit of integrity and respect into competition, and are responsible leaders both on and off the field. Most student-athletes perform at a GPA of 3.0 or above, and student-athletes with the highest GPAs are honored each semester at a President's Club luncheon, where they get the opportunity to celebrate their accomplishments with Saint Leo University President, Dr. Arthur F. Kirk.
In addition to balancing athletics with academics, Saint Leo student-athletes regularly model the school's core values through community service projects. This year, Saint Leo athletes have raised $5,000 for the Make-A-Wish Foundation. They've also volunteered at the Susan G. Komen Breast Cancer 3-Day walk in St. Petersburg, Fla., raised money for cancer awareness and participated in blood drives.
About Saint Leo University
Saint Leo ranks as one of the top universities in the South, according to U.S. News & World Report's "America's Best Colleges" list. Saint Leo's traditional liberal arts campus, located 30 miles north of Tampa, educates more than 1,900 students. Total enrollment across its campus, regional education centers, and online programs exceeds 15,000. One of the top-ranked Catholic universities in Florida, Saint Leo is one of the nation's 10 leading providers of higher education to the U.S. military, and is a nationally recognized leader in online education.
To learn more about Saint Leo University athletic programs, visit http://www.saintleolions.com
###