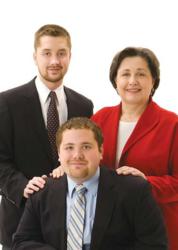 Milwaukee, WI (PRWEB) December 18, 2011
When Pat Mullikin and her family moved back to Milwaukee from Memphis two decades ago to support her husband's career, she decided to take real estate classes to learn more about the legal aspects of foreclosed homes (a rarity at the time) so she could snag a bargain. Little did she know she would get caught up in the excitement of the metro Milwaukee real estate market and not only became a very successful agent, but end up recruiting her two sons and form a marketing powerhouse in the Brookfield real estate market. Her story is currently featured in her Agent of the Week interview on JSOnline.
"My husband originally thought I would have a tough time in the business and not survive, but that just made me even more determined," laughs Pat. "It was very satisfying proving my doubting husband wrong."
In the interview, Pat says she enjoys the entrepreneurial aspect of the business most of all. "It's one of the few industries that a person's success is directly tied to one's efforts rather than working in a corporate environment," she says. "It requires the practitioner to stay motivated and upbeat. If you don't wake up every morning personally motivated, you won't be successful in the business. You have to be a self starter."
Pat goes on to say that the biggest challenge she faces today in the Milwaukee and Waukesha County real estate market is keeping transactions from falling apart once the offer is accepted. Valuations have fallen so much that financing, even after the buyer has been approved, can be difficult.
"A good REALTOR is curious enough to get to the client's motivation and would be empathetic enough to feel the stress the client is going through and help them through it; and educated enough to fully understand the complexities of the transaction," says Pat. "They also need to be confident enough to be frank and honest with the clients about what might come up—whether it's a financing, condition or pricing issue."
Pat says early in her career she received some valuable advice working with an experienced agent who warned her that she should never expect anyone else—including the other agent, her management or the title company—to get the transaction to the closing table.
"I learned that I should be in charge of the transaction in order to ensure everything gets done regardless of whether it's technically my responsibility or not," says Pat. "A broker I worked for also taught me a valuable lesson: to examine proposed contracts in detail and with a critical eye, and to apply critical thinking skills to the crafting of a contract—not just slap one together."
Pat is known in the community for her volunteer work on several committees for the Board of Realtors. A portion of each of her family / team members' transactions is donated to Habitat for Humanity because it provides housing for people—an effort near and dear to her work in the real estate market.
For more information about the interview or any of Mullikin Family Realty Group's services, please call Pat Mullikin at (414) 305-1949 or visit her real estate firm on the web at http://www.mullikinfamily.com.
About Mullikin Family Realty Group
Mullikin Family Realty Group is a metro Milwaukee real estate agency that specializes in helping buyers find the right Waukesha County homes for sale and sellers move their homes quickly and for the best possible price. Mullikin Family Realty Group serves the Metro Milwaukee communities of Brookfield, Milwaukee County, New Berlin, Waukesha and Wauwatosa real estate markets.
###