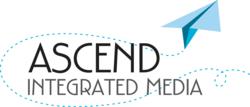 As it turns out, the tight economy has played a major role in this increase in royalties. Our active client base also is at an all-time high with well over 50 events and associations. — Cameron Bishop, Ascend Integrated Media CEO
Overland Park, KS (PRWEB) December 18, 2011
Custom content agency Ascend Integrated Media LLC and its operating brand, Ascend Media, is proud to announce that it has generated an all-time record amount of royalties for its more than 50 participating association and event partner clients.
Ascend is coming up on its 30th anniversary, and has never delivered more in royalties for clients than it has in 2011. With record royalties generated by Ascend and distributed to its partners reaching $4.5 million, the company easily eclipsed its annual average of about $4 million in royalties delivered.
"As it turns out, the tight economy has played a major role in this increase in royalties. Our active client base also is at an all-time high with well over 50 events and associations," explained Ascend CEO Cameron Bishop. "For the most part, we're seeing situations in which associations and businesses have been forced to downsize so they are looking for an outsource communications and sales resource. Or, they simply are looking for new revenue streams and know that we can come to the table with a broad array of print, digital and mobile solutions that either reduce their costs, increase their sales or both."
With a staff of 56 including a media specialist sales team of 10 and 14 degreed journalists and graphic designers, complimented by a digital development team and production specialists, Ascend delivered more than 500 communications projects in 2011. That output ranged from more than 30 show daily newspapers, more than 30 branded event365 websites, some 20 event mobile apps, dozens of print and interactive digital directories and exhibit guides and several hundred eNewsletters and eBlasts. The vast majority of these projects were funded either partially or completely by advertising and sponsorships sold by the Ascend sales team.
"In addition to our royalty-based work, we've also seen a marked increase this year in demand for our contract publishing capabilities as well. We have added four new contract publishing clients including journal publishing work for the Association of Manufacturing Excellence's Target, The American Heart Association's Connections, the Environmental Career Center's Green Career Journal and The American Academy of Otolaryngology-Head and Neck Surgery's Bulletin," said Ascend Vice President of Content Rhonda Wickham.
"In these cases, Ascend often acts as a turnkey publisher, handling content, editing, design, layout, production, ad traffic, distribution, advertising and sponsorship sales, as well as billing and collection," Bishop added.
Similarly, Darren Sextro, vice president of sales noted, "Clients asking us to represent them in the sale of their sponsorship opportunities, particularly those related to their major events and trade shows, is at an all-time record for 2011."
Besides demands made on associations and companies by a tight economy, reduced staffing and the need for new sources of revenue, numerous sources and media authorities continue to identify and document the increasing value and use of custom content and custom content outsource providers like Ascend as a way to deepen customer relationships and increase business while controlling costs. A recent study jointly conducted by the Content Marketing Institute and MarketingProfs, reports that nine in 10 B2B marketers are using content marketing to grow their business and they dedicate approximately 26 percent of their total marketing budgets to content-marketing initiatives. Plus, 60 percent plan to increase their budgets for custom content and content marketing in 2012.
About Ascend Integrated Media: Ascend Integrated Media LLC and its operating brand, Ascend Media, is a custom media agency that specializes in custom publishing, custom content creation and content integration. Headquartered in Overland Park, Kan., the agency will celebrate its 30th anniversary next year. Ascend Integrated Media is uniquely positioned to work with companies to develop and produce brand-enhancing communications products. The company engages on behalf of the client to create, produce and distribute print, digital and mobile content associated with marketing, branding and social media initiatives. Ascend's suite of fully integrated products and services includes print and digital magazine publishing, newspaper publishing, newsletters and enewsletters, membership directories, product buyers' guides, exhibit guides, maps, annual reports, hotel door-drop services, advertising and sponsorship sales representation, patient education information, website design and management, smartphone mobile app development, iPad/tablet publishing as well as social media account management, targeted text services and QR code programs.
About Content Marketing Institute: The Content Marketing Institute (CMI) teaches marketers how to own their media channels instead of having to rent them through advertising. The institute educates marketers through events like Content Marketing World, media properties like Chief Content Officer magazine and strategic consulting and research for some of the best-known brands in the world. Contact Joe Pulizzi at joe(at)junta42(dot)com.
About MarketingProfs: Marketing Profs helps the smartest marketers worldwide turn even the toughest marketing challenges into success stories. More than 400,000 members rely on its free daily publications, virtual conferences, online seminars and short webcasts, in-depth how-to reports, research, interactive planning tools, online courses and in-person events for actionable know-how designed to make marketers both smarter and more effective. Contact Ann Handley at ann(at)marketingprofs(dot)com.
###