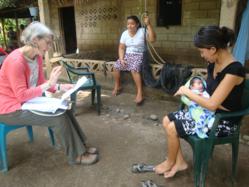 It was really good to be able to take care of 400 children in one day.
Guatemala (PRWEB) December 16, 2011
Bananera Nacional, S.A. –Banasa– organized the visit of 12 doctors from the University of Colorado. The purpose of this visit was to conduct a study about the health, education and lifestyle situation of the communities bordering the southwestern departments of Quetzaltenango, Retalhuleu and San Marcos.
BANASA has environmental and social programs for the benefit of its workers and their families, and promotes the healthy development of the surrounding communities. With this study Banasa will have a better understanding about the lifestyle of the people in the communities and their basic needs, so that the company can better contribute to their development.
The doctors from Colorado, together with Banasa personnel, conducted focus groups with community leaders and surveyed more than 300 mothers from eight communities: Los Encuentros, Chiquirines, El Pomal, Carrizales, Colonia Barillas, El Palmar II, Santa Fe and Valle Lirio, where most of Banasa´s workers live.
At the end of the week-long activity, a free medical fair was held dedicated to the children of four communities. Noelia Hernández, nurse of the Health Center of Chiquirines, said: "It was really good to be able to take care of 400 children in one day."
For more information on Banasa, please visit: http://www.banasa.net
# # #