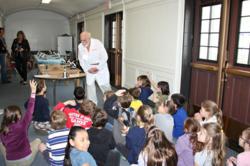 Westchester County, NY (PRWEB) December 21, 2011
As Westchester Children's Museum (WCM) begins to ready its new brick-and-mortar home in the historic North Bathhouse of Playland Park in Rye, N.Y., its Museum Without Walls program has been traveling to local community centers to provide students with hands-on educational activities that are full of fun and discovery. With a mission to engage regional children in exploratory learning and provide the same opportunities for future generations, there's no better time than the season of giving to donate to the Westchester Children's Museum.
Museum Without Walls programs are taught by volunteer educators and feature lessons about science, technology, engineering and math. Launched in March 2010, Museum Without Walls has helped children explore concepts of magnetism, DNA extraction, and solar and wind energy, as well as learn about whales, sharks and other wonders of the natural world. Students also participate in the creative arts through music, learn about cultural diversity through an innovative mask-making exercise, and examine environmental and sustainability issues through paper and book-making projects.
"Museum Without Walls offers diverse programs that provide kids with the opportunity to experience unique activities that are both educational and exciting," said Brian Skanes, executive director of the Boys & Girls Club of Northern Westchester. Mary Thomas, Director of the White Plains YWCA's Kids Connection, agrees, adding, "The need has never been greater for this type of community collaboration."
As declining school budgets continue to eliminate out-of-school enrichment programs, Museum Without Walls has steadily grown to provide an interactive learning environment to nurture and encourage the imaginations of future scientists, engineers, artists, and productive citizens. With your support, WCM can provide programs for children most in need of out-of- school-time activities throughout Westchester County, N.Y. and southern Fairfield County, Connecticut. Museum Without Walls programs are privately funded by generous corporate, foundation, and individual supporters.
To take advantage of the museum's secure online giving options, please visit http://www.discoverWCM.org. For more information or to learn about other ways to help Westchester Children's Museum, please call 914-421-5050.
About Westchester Children's Museum
Westchester Children's Museum (WCM) will be a learning laboratory providing children, families, and school groups throughout Westchester County and the surrounding region with the opportunity to nurture curiosity, enhance knowledge, and ignite imagination through hands-on exploration. WCM is committed to broadening knowledge of the arts, the environment, multiculturalism, and the local and global communities in an educational and recreational atmosphere. The Westchester County Board of Legislators recently granted WCM a home at the historic Rye Playland North Bathhouse, where families will learn and explore through state-of-the-art exhibits. Until its physical home is built, WCM is dedicated to fulfilling its educational mission through its Museum Without Walls program, which has brought hands-on educational programs to nearly 3,000 children since launching in March 2010. For more information about WCM, please visit http://www.discoverWCM.org.
Contact:
Barbara Wollenberg
Co-Communications
914-666-0066
barbara(at)cocommunications(dot)com
# # #