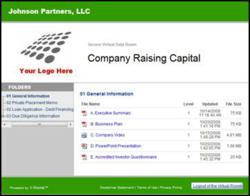 The V-Rooms online PPM distribution program provides a regulation-compliant system that is faster and more economical
Atlanta, GA (PRWEB) December 20, 2011
V-Rooms, a leading provider of internet based virtual deal rooms for finance, legal and corporate transactions has expanded its online Private Placement Memorandum delivery program (http://www.SendPPM.com) to assist investment bankers, broker dealers, venture capital firms and financial advisors with the private equity capital raising challenge for their clients.
The V-Rooms online distribution program provides a regulation-compliant system that is faster and more economical than the paper-based method of printing 500 copies of the PPM, numbering each copy, couriering each to accredited investors and maintaining administrative records to satisfy regulatory requirements. In addition to the significant cost savings of document printing, courier expense and compliance tracking, the online platform considerably accelerates the entire process. All information is stored on a secure, central server that is readily accessible by the staff, advisors and management personnel of the issuer, placement agent and investors... 24 hours a day from any location.
"In today's financial market 'raising business capital' is top priority," said Dan Bradbary, CEO of Due Diligence Online, LLC, parent company of V-Rooms. "We have tailored our program to meet the needs of companies searching for business capital via a PPM investment. With our cloud-based model, a virtual data room can be up and running within hours, allowing for document uploads and potential investor access the same day... requiring no investment or delay with software and hardware."
"Also, investment bankers, broker dealers and financial advisors, are able to brand the look of the virtual data room as an extension of their organization, even embedding the login within their existing website. One of our clients recently stated 'The V-Rooms Virtual Data Room system is GREAT!!! It handles all compliance issues, reduces man-hours and it is actually a cost savings vs. print and Fed-Ex. I am very happy someone finally put this system in place for our industry.'"
###