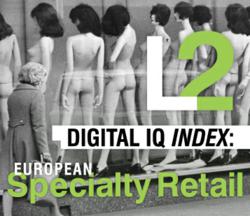 "Digital will separate the winners from the losers," says Professor Scott Galloway. "While European retail growth is off 2.3 percent year-on-year, the e-commerce channel is expected to grow at 12.2 percent annually."
New York, NY (PRWEB) December 16, 2011
ASOS took the top spot, followed by H&M, NET-A-PORTER and Sephora, in the inaugural L2 Digital IQ Index®: European Specialty Retail. The ranking, developed by NYU Stern Professor Scott Galloway and a team of experts from L2, measures the digital aptitude of 55 European specialty retail brands across the EU-5 markets in Western Europe and the United States. Brands were measured on 350 data points across four dimensions: Site, Digital Marketing, Social Media, and Mobile and assigned a Digital IQ and a corresponding class of Genius, Gifted, Average, Challenged, or Feeble.
The IQ distribution reveals a significant bifurcation in digital competence, as nearly half of the brands were designated Challenged or Feeble. Retailers with lower average price-points performed better, suggesting prestige retailers are still hesitant to embrace digital channels.
"Digital will separate the winners from the losers," says Galloway. "While European retail growth is off 2.3 percent year-on-year, the e-commerce channel is expected to grow at 12.2 percent annually."
To download the complete rankings and key findings, go to: http://bit.ly/L2EuroRetailIQ
Top Ranked Brands in the Study:
1. ASOS
2. H&M
2. NET-A-PORTER
4. Sephora
5. Marks & Spencer
6. Lacoste
7. Diesel
8. L'Occitane
9. Mango
10. House of Fraser
Key findings include:

87 percent of the brands support e-commerce. Online-only retailers boast a higher average Digital IQ than their brick-and-mortar peers of 114 vs. 91, suggesting that store-based European retailers are lagging digitally.
As a whole, European department stores significantly trail their American counterparts in digital competence. 42 percent of department stores in the European Specialty Retail Index reside in the Feeble category; one third are not e-commerce enabled.
Retailers headquartered in the U.K. register higher Digital IQs than those from other countries, mirroring macro trends of the nation's swift e-commerce and digital adoption.
Many European retailers have established Facebook communities numbering in the millions, but fall-behind in creating engaging content as they often suffer from the lowest interaction rates. Additionally, opportunities for monetization as only four brands in the Index engage in full Facebook commerce.
iOS is the mobile platform of choice among European specialty retail brands; 47 percent of brands offer iPhone apps, and 30 percent have iPad apps. Comparatively, only 24 percent of brands have optimized their sites for mobile viewing.
"Digital also provides an opportunity to drive revenue at brick-and-mortar retail," says Galloway. "Two-thirds of consumers in Western Europe research online before heading in store, while more than 65 percent use their smart phones while shopping."
About L2
L2 is a think tank for digital innovation. Founded by NYU Stern professor of marketing Scott Galloway, L2 helps prestige brands navigate the digital marketing landscape through events, research and advisory services. The L2 Digital IQ Index® is the largest and most robust study of its kind. Rankings are published annually across industries including Luxury, Specialty Retail, Beauty, Travel, and Media. In Q4 2011, L2 launched L2 Europe offering research, advisory and events to prestige brands across Europe. For membership information, contact membership@L2ThinkTank.com
For more information, visit: http://www.l2thinktank.com
###