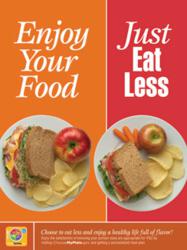 We've developed over 40 MyPlate-related products in the past six months.
Owatonna, MN (PRWEB) December 16, 2011
Learning ZoneXpress is gearing up to promote the second phase of the MyPlate initiative after sending COO Joyce Mattson to USDA's National Strategic Partner Meeting in November 2011. The second of seven themes is "Enjoy your food, but eat less."
The company became a National Strategic Partner in June 2011, which means that it has a health mandate consistent with USDA's Center for Nutrition Policy and Promotion (CNPP), agrees to promote CNPP's dietary guideline messages, and has a national reach.
"USDA officials helped all of the National Strategic Partners understand the two-year plan for MyPlate," says Mattson of the meeting. The first phase of the plan, running from September to December 2011, was focused on MyPlate's central message: "Make half your plate fruits and vegetables." The theme of the second phase, which will last from January to April 2012, is "Enjoy your food, but eat less." Five more four-month phases will follow, emphasizing foods to eat more of, foods to eat less of, and portion control.
"The meeting was motivating," says Mattson. "I was fortunate to meet USDA officials face-to-face and to exchange ideas with visionary National Strategic Partners. It definitely reaffirmed our company's commitment to the MyPlate campaign and our contribution to the USDA Partnership."
Learning ZoneXpress has a solid history of supporting the MyPlate initiative. "We've developed over 40 MyPlate-related products in the past six months," says company CEO Melanie Nelson, "and we have ten more to accompany MyPlate's second phase." She says that "Enjoy your food, but eat less" products will be available as the new MyPlate theme kicks in. "Twenty-four hours after MyPlate was introduced on June 2, 2011, Learning ZoneXpress had MyPlate posters, handouts, bookmarks, and magnets ready for distribution," she says, promising also that "the second phase will be no different."
Nelson notes that her company's MyPlate products are designed to be visually powerful. "Studies are clear: visuals bring messages from the back to the front of the mind," she says. "You can say, 'Make half your plate fruits and vegetables.' But the point is driven home when you show a plate half-covered with fresh salad and apple slices." That's why, according to Nelson, most of the company's products will feature engaging photography of proper proportions of real grains, protein, dairy, fruits, and vegetables.
Nelson's only wish is that phase two of MyPlate could have started sooner. "We could all use a little help eating less over the holidays!" she says. Remember to enjoy your food, but eat less.
Learning ZoneXpress, based in Owatonna, Minn., is a leading source of "edu-taining" and award-winning teaching tools. Its mission is to help improve the health and vitality of children by providing relevant, creative and affordable learning tools about life skills, healthy behaviors and nutrition. Learning ZoneXpress offers a wide variety of affordable education DVDs, posters, games, lesson plans, and PowerPoint presentations.
For more information about Learning ZoneXpress products, visit http://www.learningzonexpress.com or call Toni Gnasdoskey at 888-455-7003.
###