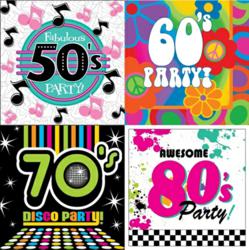 Who wouldn't want to attend a modern-day sock hop or disco party?
(PRWEB) December 16, 2011
OverTheHillBirthdayParty.com introduces its newest line of party supplies celebrating the 1950s, 60s, 70s, and 80s. These decade-themed party supplies are great for birthday parties, anniversary parties, or even just get-togethers with a group of friends. The retro decades party supplies feature great elements like jukeboxes, peace signs, disco balls, cassette tapes, and other design elements that are indicative of some of the most memorable trends of the twentieth century.
"We're excited to get these new themes in for a couple of different reasons; for one, they expand our inventory of age-generic adult birthday party decorations, but more importantly, these are really fun designs that celebrate the different decades our customers have lived through and enjoyed. Who wouldn't want to attend a modern-day sock hop or disco party?" says Edward Hechter, CEO.
OverTheHillBirthdayParty.com's Fabulous 50s party theme is perfect for the early baby boomers who experienced the decade for themselves, or for younger people who were just born in the wrong decade and would have loved to experience a true sock hop! Featuring jukeboxes, muscle cars, ice cream sundaes, poodle skirts, and more, the Fabulous 50s theme brings the decade alive in any day and age.
For those born in the 1960s, or for those who are just hippies at heart, OverTheHillBirthdayParty.com also introduced a Groovy 60s party theme, featuring a tie dye print, peace signs, lava lamps, and the vibrant colors of the decade. These retro decorations are great for birthday parties, but have generic messaging as well so they can be used for any type of party celebrating the 60s.
The 70s disco party theme features the most iconic music style of the decade: disco. Major design elements include mirrored disco balls, bright neon colors on a black background, and silhouettes of people dancing wearing bell-bottom pants. For those born in the 1970s, or who grew up in the 1970s, this theme pays homage to an important decade with style.
The last of the new decade themes, the Awesome 80s party theme features cassette tapes, 80s arcade game images, a boom box, and—of course—break dancers. For those who vividly remember the 1980s, these party supplies are a perfect throw-back and a great way to celebrate a birthday or other special occasion.
All four of the new retro decade themes are currently for sale at OverTheHillBirthdayParty.com, and each includes plates, napkins, centerpieces, room décor, and even clothing and accessories to help guests step back in time stylishly.
About Us:
OverTheHillBirthdayParty.com is a branch of PartyPail, Inc., specializing in adult milestone birthday party supplies and decorations. PartyPail, Inc. was founded in 2007 by Edward and Lisa Hechter, and focused on baby shower decorations. After achieving success in that market, Edward and Lisa started to branch out into other milestone event markets, such as first birthdays, adult birthdays, and more. Recently recognized by the Puget Sound Business Journal as the ninth fastest-growing private company in Washington State, PartyPail, Inc. continues to enter new markets and provide decorations for a growing number of important life events.
###