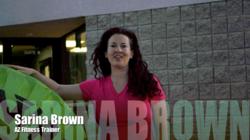 PreferredLocalBusiness.tv happily welcomes their newest listing for Scottsdale Personal Training.
Scottsdale, AZ (PRWEB) December 16, 2011
Scottsdale Personal Training services have never been as easily accessible as they are today, thanks to AZ Fitness Trainer Sarina Brown joining PreferredLocalBusiness.tv, a local preferred business directory that will make Scottsdale Personal Training services immediately available to local internet searchers.
About AZ Fitness Trainer Sarina Brown:
Located in beautiful Scottsdsale Arizona, AZ FitnessTrainer Sarina Brown specializes in convenient and effective workouts provided to her clients in their home, office or in her fully-equipped private personal training studio in the Scottsdale Airpark.
Sarina Brown knows that her client's time is precious and will ensure that their routines are efficient and effective. She is a Fitness Chef as well and incorporates an eating plan to meet her client's lifestyle.
"I use innovations in exercise science and targeted nutrition to meet your health goals." Sarina explains, "By combining an exercise plan with an eating plan, success happens."
Sarina Brown coaches her clients with their own individual exercise plan that allows their body to burn fat up to 9 times faster than conventional methods. She guides her clients to success by increasing their lean mass and decreasing body fat, all at the same time.
AZ Fitness Trainer offers the right training so that clients will achieve their goals as well as:
•Increase their energy and feeling of wellbeing.
•Look and feel younger.
•Fit perfectly in their favorite clothes.
•Boost their confidence.
Sarina offers her services from 6 AM to 8 AM Monday through Friday and encourages potential clients to contact her for a free consultation.
AZ Fitness Trainer provides outstanding care delivered by a dedicated trainer meaning their clients receive the personalized treatment and attention required for a stellar Personal Training experience. PreferredLocalBusiness.tv happily welcomes their newest listing for Scottsdale Personal Training.
###