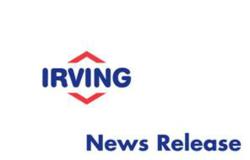 Portsmouth, New Hampshire (PRWEB) December 19, 2011
Irving Oil awards free gas for a year to six New England residents.
Rewards Program awards $28,600 in gas cards to lucky customers.
Six New England residents will have one less expense to worry about this year thanks to Irving Oil. Irving has awarded free gas for a year to lucky customers in New Hampshire, Maine, Vermont, Massachusetts, Connecticut, and Rhode Island as part of the Irving Rewards Program. In total, Irving awarded $28,600 in gas savings through "Rewards Street Teams," $100 gift card giveaways, and the free gas for a year contest.
Irving Rewards launched in June, allowing consumers to save on gas at more than 300 locations throughout New England. With every $200 in fuel purchases, customers earn 10 cents off per gallon at the next fill-up. Customers also had the opportunity to win free gas for a year by registering their cards and entering at http://www.theirving.com. Over a ten-week period, Irving also gave 100 Rewards customers each a $100 gas card. Since launching Irving Rewards, over 110,000 customers have signed up and saved on more than 3.6 million gallons of gas.
"We have four kids, three tuitions to pay, three cars and drive over 50,000 miles a year, so free gas for a year is huge for us," said Joan Hayssen, Vermont's Free Gas for a Year winner. "We are religious about using the Rewards card. The prices at Irving are great, the stations are always clean and the staff is incredibly friendly." Hayssen and the following New England residents also won free gas for a year from Irving:

Garrett Bickford of Andover, New Hampshire
Julie Jones of Hollis, Maine
Walter Kalil of Newburyport, Massachusetts
Lucy Mainor of North Kingstown, Rhode Island
Sheila Riley of Berlin, Connecticut
"I am just stunned. I appreciate this more than you would ever know," said Lucy Mainor of North Kingstown, Rhode Island. "Free gas for a year will help out so much, especially with all the drivers in my family."
"We are thrilled over 110,000 customers have the opportunity to save on gas through Irving Rewards," said Harry Hadiaris, general manager of Irving Oil. "For six very lucky customers, those savings will extend for an entire year."
For more information on Irving Rewards, visit theirving.com/rewards.
About Irving
Irving Oil was founded in 1924 and is a privately owned regional refining and marketing company. Irving Oil operates Canada's largest refinery, just over the border in Saint John, N.B., and has nearly 900 service stations and travel plazas in New England and Eastern Canada. In 2003, Irving Oil became the first oil company to receive a U.S. Environmental Protection Agency Clean Air Excellence Award, for its clean gasoline. For more information about Irving Oil, visit http://www.theirving.com
###