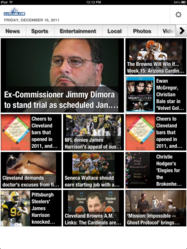 We are excited to deliver the most up-to-date local iPad app featuring sports, entertainment, business, events and of course robust real time news and photos from The Plain Dealer and Sun News.
Cleveland, OH (PRWEB) December 19, 2011
cleveland.com has launched a new iPad app, with real-time local news, sports, entertainment, business, and opinion articles, photos and classifieds—powered by The Plain Dealer and Sun News.
The cleveland.com iPad app features content from Northeast Ohio's leading news and information properties including cleveland.com, The Plain Dealer and Sun News.
The free app is available in the iTunes App Store. It was developed and launched with Advance Digital and Verve Wireless.
"The community has been asking for this iPad app, said cleveland.com's editor-in-chief, Denise Polverine. "We are excited to deliver the most up-to-date local iPad app featuring sports, entertainment, business, events and of course robust real time news and photos from The Plain Dealer and Sun News."
The app includes a bold, photo-driven home screen that automatically arranges top stories into an attractive, dynamic layout. Articles automatically adjust to portrait or landscape orientation. Article pages feature a clean look, with adjustable text size, and saving and sharing functions through Facebook, Twitter and iMessage.
Articles with multiple photos automatically generate photo galleries. Intuitive swiping gestures quickly move the reader from one page to another. A convenient pop-up "More Articles" tray shows the 20 most recent stories in a section. Articles are downloaded and stored locally in the app for fast access, even when offline.
Content on the app includes news coverage of local communities throughout Northeast Ohio, high school sports, local pro and college teams; entertainment coverage of TV, movies, music and the local arts scene; and photo galleries and obituaries. There's also local advertising and links to classifieds listings of jobs, autos, and homes for sale and rent.
Download the cleveland.com iPad app from the App Store here.
About cleveland.com
cleveland.com, an affiliate of Advance Digital, Inc., is the leading local website for news and information throughout Northeast Ohio featuring the latest Cleveland news, business, sports, travel, weather, traffic, shopping and entertainment information. In addition, cleveland.com has a comprehensive business listings directory, as well as local classified listings for jobs, homes, apartment rentals and autos. cleveland.com is powered by The Plain Dealer and Sun News.
About The Plain Dealer
The Plain Dealer is Ohio's largest newspaper and among the 20 largest newspapers in the country, reaching nearly 800,000 readers daily and nearly 1 million on Sundays. The Plain Dealer's media market, Greater Cleveland, is ranked No. 1 in the country for Sunday newspaper readership percentage (75 percent of total adults) and is No. 2 in daily newspaper readership percentage (62 percent of total adults), second only to the New York Times. The paper also has an electronic edition, and its content and related material can be found on cleveland.com. The Plain Dealer also operates Politifact Ohio, a website that analyzes political issues relevant to local interests.
About Advance Digital
Advance Digital, Inc., based in Jersey City, NJ, provides digital information and connection solutions for local consumers and businesses. The company operates 11 media properties across the U.S. that are the number one local news, information and community hubs in the markets they serve. The sites include al.com, cleveland.com, gulflive.com, NJ.com, NOLA.com, OregonLive.com, SILive.com, syracuse.com, MassLive.com, PennLive.com, and lehighvalleylive.com.
About Verve Wireless
Verve monetizes local mobile media. Our solutions help local media companies monetize their mobile inventory and enable advertisers to reach a valuable, premium audience where they live, work and play. Over 1000 local publishers use the Verve platform to manage their mobile advertising businesses and help make their sales teams more effective. In addition, we bring incremental revenue to our publishers through our relationships with national advertisers, who value the Verve network's high quality local media companies, including the mobile outlets of recognized local media brands as well as newer digital-only local and hyper-local publishers. It is a brand-safe, editorially-driven, high-quality and transparent environment with market-leading targeting, creative and reporting capabilities. Only Verve has assembled such an extensive national footprint of high quality local media. Verve is located in San Diego, CA and Washington DC. For more information, visit http://www.vervewireless.com.
###