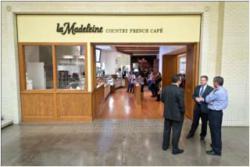 The client wanted to keep their restaurants feeling uniquely French, but to lighten and brighten the look to express an updated French decor.
Bethesda, MD (PRWEB) December 19, 2011
The architecture and design team at Bethesda, MD-based Streetsense has created an all-new interior design scheme for La Madeleine French Country Cafe, a national chain of French-themed fast casual restaurants. A 1,194 square foot restaurant using the new prototype design is now open at Northpark Center in Dallas, TX, while another is under construction in Tulsa, OK. La Madeleine also has engaged Streetsense to design two new stores planned for the Washington, D.C. metropolitan region, one in Tysons Corner, VA and one in Silver Spring, MD.
The first new design prototype is the recently opened La Madeleine in Northpark Center in Dallas, TX, and is considered the prototype for all new stores located within shopping malls. The Tulsa, OK store, now under construction, is free-standing and has an all-new exterior storefront.
In Tysons Corner Center, one of the largest shopping centers on the East Coast, La Madeleine will move from its current perimeter location to a 3,500 SF interior space on the mall's second level. Like the new store in Northpark, TX, the Tysons location will feature a refreshing design with lighter materials, colors, and textures, while retaining the restaurant's classic French bistro feel.
The Silver Spring store will occupy 2,800 SF on the street level of an existing office building at 8435 Georgia Avenue in the heart of the revitalized downtown. The bright, fresh new interior will be accompanied by a generous outdoor seating area.
"The client wanted to keep their restaurants feeling uniquely French, but to lighten and brighten the look to express an updated French decor," said Herb Heiserman, Managing Principal, Streetsense. "The goal was to create a warm, comforting environment appealing to the core customer group, 25- to 54-year-old women, who value a well-designed space with a touch of class." Added Kathryn Bram, Director of Projects, Streetsense: "Our early conversations with the client were focused on the front service line and customer entry experience, but the redesign project quickly grew to cover all elements of the restaurant with the exception of the kitchen." The Streetsense design team working on this project includes Hugo Rodriques, Rhena Saar, David Pilkenton, and Kristina Crenshaw.
La Madeleine was founded in Texas by French expatriate Patrick Leon Esquerré, who missed the fresh, homemade foods and café atmosphere of his native Loire Valley. There are now more than 60 La Madeleine restaurants in the U.S.
About Streetsense
Streetsense is an integrated brokerage, design, branding, and development company specializing in retail and real estate. Established in 2001, Streetsense is the premiere and only truly full-service, retail-centric company in the real estate market today. Its powerful platform provides clients with an extremely wide range of services, including master planning, architecture, retail design, retail brokerage, development, and a full-service marketing studio that includes branding, graphic design, publicity, social media outreach, and more. Clients include well-known brands such as Chipotle, Starbucks, Maggiano's Little Italy, Plow & Hearth, and Limited Brands, as well as real estate developers that include the The JBG Companies, Vornado/Charles E. Smith, and Akridge.
Recent projects include interiors for Matchbox in Rockville, MD (plus a ground-up building pad site), Pi Pizzeria in Washington, D.C., Chipotle's new concept Shophouse in Washington, D.C., and Café Caturra in Arlington, VA; and development of The Shoppes at Arts District, a 36,000 square foot specialty center will be the focal point of Arts District Hyattsville (MD). For more information, see http://www.streetsense.com.
###