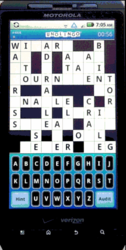 "Unolingo is such a simple concept yet very enjoyable and addictive. I found Unolingo puzzles hit the sweet spot in terms of time required to solve. This app is GREAT!" Chris H., Clinton Township, MI
(PRWEB) December 20, 2011
Called Unolingo and pronounced "you-know-lingo", this new brain-teaser is a 10 x 10 crossword puzzle without clues and 26 empty squares that require the precise placement of each letter of the alphabet. Depending on the level of difficulty, from one-star (easiest) to four-star (most difficult), a Unolingo can be completed in 5-15 minutes and calls for a mix of word knowledge, logic and deductive reasoning.
According to the puzzle's creator and founder of Equazi Enterprises, Ian Mailing, "Unolingo is poised to be the next great puzzle. It is unique in its appeal to all ages, and is fun for the daily commuter, casual puzzler, or serious word buff. The varying difficulties and mind-bending nature of the puzzle make it ideally suited to both collaborative and competitive situations."
Unolingo is available on iPhone®, iPod touch®, iPad®, NOOK, Kindle Fire, and all Android devices. This fascinating word puzzle app allows puzzlers to compete against time, track performance statistics, and offers unique "hint" and "audit" capabilities to ensure that everyone is successful in completing a puzzle. Users can select a preferred level of difficulty and download hundreds of new puzzles with ease.
Equazi Enterprises, founded in 2008 and headquartered in West Bloomfield, Michigan, is committed to the creation of new puzzles and games that stimulate the mind and provide entertainment to people of all ages. For more information, please visit unolingo.com.
###