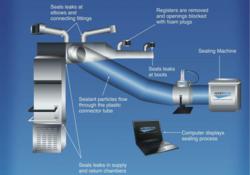 The DOE and the Electric Power Research Institute determined... 25% to 40% of the heating and cooling energy put out by HVAC systems is lost through the ductwork system.
Fort Myers, FL (PRWEB) December 19, 2011
Kenmark Air Cooling & Heating of Southwest Florida is proud to announce the inclusion of the patented Aeroseal duct sealing technology as a fast and cost effective method for lowering utility costs, saving energy and improving indoor air quality for homeowners in Southwest Florida. Kenmark's Aeroseal of SWFL is a cutting edge process that tackles leaks in air duct systems and seals them through a computer-controlled injection of aerosol mist particles. The technology was developed at Lawrence Berkeley National Laboratory and funded by the U.S. Environmental protection agency, U.S. Department of Energy (http://www.energy.gov), the Electric Power Research Institute, and California Institute of Energy and Environment with efforts to potentially save Americans an estimated $5 billion a year on cooling and heating costs. The cutting edge duct sealant process puts escaping air under pressure and causes the mist to stick first to the edges of a leak, then to each other until the leak is closed. Its ability to seal leaky air ducts is saving homeowners up to $850 per year on their home energy bills.
Aeroseal was selected as one of this year's best new home products in "This Old House magazine's Top 100 Best New Products awards. The process also won the "Best of What's New" award from Popular Science magazine, and the "Energy 100" award from the U.S. Department of Energy (DOE). As stated by Aeroseal.com, "The DOE also rated the Aeroseal duct sealing process as one of the 23 most beneficial technologies available to American consumers that has come out since the agency was created."
"Duct leaks are not a do-it-yourself project. They can be hard to find or costly to seal with older or conventional, less effective methods other than the Aeroseal process. We are here to educate homeowners and help them improve the cost-effectiveness of their HVAC system," say's Ken McDaniel, President of Kenmark Air. "If your energy bills seem high, your home is dusty, the rooms in your house are different temperatures or the quality of your indoor air is poor; studies show that the Aeroseal duct sealing process is the most effective solution for combating these problems and plays a critical role in saving energy and money in your home or office," McDaniel concludes.
For more information about Aeroseal technology solutions, call Kenmark Air at (239) 437-7040 or visit http://www.KenmarkAir.com. Kenmark Air is located at 5811 Country Lakes Drive, Fort Myers FL 33905
# # #