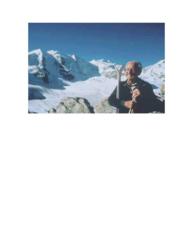 Our health is our most important possession! It is based on the harmonious combination of many factors – a well-balanced lifestyle, spiritual contentment, zest for life, adequate exercise, healthy nutrition and natural herbal remedies
Ghent, NY (PRWEB) December 18, 2011
Alfred Vogel, the beloved Swiss Nature Doctor passed away at the ripe old age of 96, but his writings live on to inspire healthy living. Bioforce USA wants to pass his wisdom on to a new generation. Social media is currently the best way to connect with people, so now everyday there will be a new nugget of wisdom to promote and enhance a life of contentment and well being on the Bioforce USA Facebook page, as well as Twitter. This new feature was inaugurated this week with this thought:
"Our health is our most important possession! It is based on the harmonious combination of many factors – a well-balanced lifestyle, spiritual contentment, zest for life, adequate exercise, healthy nutrition and natural herbal remedies."
Pierce Sioussat, President of Bioforce USA stated "People today are looking for ways to live healthier and happier lives. We believe, as did Alfred Vogel, that this encompasses your whole way of looking at things. We want to build, day by day, a positive way of thinking and taking care of ourselves, through these daily, life affirming thoughts. It is well known that how we feel, is deeply affected by what we think. Social media is the perfect medium to share Alfred Vogel's time tested wisdom on health and life."
Just by going to the Bioforce USA Facebook page and clicking the "like" button, you will start to receive these daily inspirations from Alfred Vogel, the Nature Doctor. The Twitter account number is http://bit.ly/sCaH2G.
Alfred Vogel's life's work was built on his unshakable belief in a way of life and of healing based in every respect on nature's example. His "green" way thinking was remarkable considering it would be many decades before organic was appreciated and protecting the environment became and important concern. Bioforce AG the company he founded in 1963 is known for its sustainable, organic farming (certified by Bio Suisse) which provides the raw materials for its fresh plant extracts. Bioforce's manufacturing facility is certified as meeting Pharmaceutical Good Manufacturing Practices (GMP's) and the Vogel products are sold in 33 countries. Bioforce carries on his mission of helping people live healthier lives and working to keep the environment healthy as well.
For more information contact Eileen Sheets at 800-641-7555 x100
###