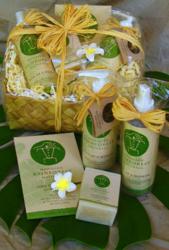 Formulations are based upon ancient Hawaiian healing practices...
Honolulu, HI (PRWEB) December 19, 2011
Alii Hawaiian Tropical Flowers, a leading provider of fresh flowers to the US mainland and within Hawaii offers gift baskets and bags as well as individual gift items made in Hawaii. Selections include traditional Hawaiian treats such as 100% Kona coffee, macadamia nuts and chocolates.
Using only local producers Alii creates gift selections with themes such as it's Kona Coffee Lover's Gift Bags, Chocolate Lover's Gift Bags and Macadamia Nut Lovers Gift Bags. Items include cookies, brittles and candies made from the theme ingredients.
In addition to Hawaiian treats Alii Flowers offers a line of spa and personal care products for both men and women. The lotions, soaps, solid perfumes and bath salts include infusions of flower essences found in the rainforests of the Big Island of Hawaii. Formulations are based upon ancient Hawaiian healing practices and all are gathered without harm to the local environment. The spa items are available in gift baskets or individually.
Alii's web site also allows vistors easily to create their own custom baskets or bags from any combination of items on the site. All gift bags have a colorful Hawaiian flower theme and baskets are made from the lauhala tree and tied with raffia giving a natural appearance.
About Alii Flowers
Alii Hawaiian Tropical Flowers specializes in Hawaiian grown flowers for arrangements, leis and wedding bouquets as well as authentic Hawaiian crafted gift items. Alii Flowers has been on line in Hawaii since 2005.
###