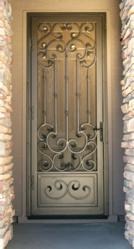 We believe customers want more than just security; they want an attractive door that matches their property.
(PRWEB) December 20, 2011
Mark Montgomery, Director of Sales and Marketing for First Impression Security Doors, is pleased to announce that the company is now providing security doors and iron gates to customers in Dallas and San Francisco. First Impression will also be positioned to provide service to several other cities in Texas and California and is able to ship to anywhere in the U.S. or Canada.
First Impression is committed to providing its customers with products featuring the highest quality of ornamental iron craftsmanship and customizable design. According to Montgomery, Texas and California customers will benefit from a wider availability of quality security door options.
"Safety is an important issue for Texas homeowners, and we're pleased that First Impression will be in a strong position to fulfill the rising demand for Dallas security doors," Montgomery said. "We're also excited to bring our quality products to the San Francisco market, and we're confident that consumers will be excited about what we have to offer."
First Impression specializes in providing quality security doors to small businesses, residential homeowners and large commercial projects; however, the family-owned business provides its customers with more than just safety. According to Montgomery, its beauty and customization that sets First Impression security doors apart from the competition.
"We believe customers want more than just security," Montgomery said. "They want an attractive door that matches their property. California home and business owners want to protect their assets and the demand for San Francisco security doors is on the rise; however, customers shouldn't have to sacrifice style for safety. Likewise, Texas consumers need options that are consistent with the style of their individual businesses and homes. First Impression will bring a wide array of options to these markets, and we believe consumers will be happy with the choices our company offers."
First Impression steel security screen doors and iron gates come with a lifetime structural warranty and they assist with the installation process by helping their clients locate a certified Angie's List local handyman or remodeling contractor to ensure a professional installation. To find out more about First Impression Security Doors products and services, visit their website at http://www.FirstImpressionSecurityDoors.com. To arrange an interview with Mark contact:
Mark Montgomery
Director of Sales & Marketing
1440 North Mondel Drive
Gilbert, AZ 85233
Office: (480)320-4965
http://www.FirstImpressionSecurityDoors.com
###