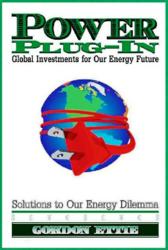 Miami, Florida (PRWEB) December 20, 2011
Power Plug-In: Global Investments for Our Energy Future is two books in one. Published by Energy Scienomics, it is an energy book destined to change current thinking about energy sources and it is a guide to energy investment strategies for small and large investors.
"I just could not sit by and not speak up when every day more and more misinformation about our energy situation floods the media and Internet and pours across my desk," says author-investor Ettie. "It got me really mad, then motivated, and finally drove me to spend almost two years in research, travel and in the writing of this book, Power Plug-In."
Ettie is not only familiar with the whole topic of energy; he's devoted his lifelong career to it, making a lot of successful investments for himself and others. His position on the boards of prestigious companies advising on critical decisions in the highly technical and competitive world of energy and, if that isn't enough, he has been an advisor to entrepreneurs and start-ups all looking for a share of the growing energy market.
"Power Plug-In is a useful view of the dynamic energy landscape," agrees Scott I. Oakford, Managing Partner, Hamilton Robinson Capital Partners. He goes on to say, "The author, as an engineer, CEO and investor examines each energy source—its origin, history, contribution to standards of living, cost, and effects it has had on economics, technological development, and growth and offers solid guidance for anyone looking to participate in this exciting area."
Power Plug-In offers compelling global solutions for both the individual, organizational and government energy investor by taking a broad look at all energy sources in the production of electricity and fuel for transportation and then providing a strategic plan for the best use of both research and financial resources for the future.
"My goal is to use revenues from this book and attract funding which will be tax deductible to support an energy scholarship program," explains Ettie whose non-profit organization Energy Scienomic is the publisher.
For more information please visit http://www.PowerPlug-In.com or contact powerpluginbook(at)gmail(dot)com
###