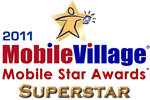 Winners are chosen by real users who really love the product. And both the nominees and winners are respected in the mobile industry as the 'stars' to watch.
Savannah, GA (PRWEB) December 19, 2011
OnPoint Digital, Inc., a leading provider of online and mobile learning solutions, today announced that, for the fifth year in a row, its CellCast Solution™ has won top honors in the 10th annual Mobile Star Awards™ program, hosted by mobile technology news portal MobileVillage.com. OnPoint's CellCast Solution™ won Superstar Awards in both the Enterprise Software: Education or Presentation category and in the Enterprise Software: Field Sales and CRM category and a Shining Star in the Enterprise Software – Data Capture category.
The Mobile Star Awards showcases entries in dozens of categories covering mobile apps, wireless network solutions, enterprise mobile software, enterprise success stories, technology visionaries, and more. Winners were chosen by subscribers of MobileVillage's Go Mobile™ – a free bi-weekly e-newsletter that delivers informative headlines and links to top mobile technology stories on popular websites and has thousands of readers.
"The Mobile Star Awards pits today's most exciting new mobile products and companies against established competitors, and the thousands of mobile-savvy readers of 'Go Mobile' choose the winners," says Mobile Star Awards director Gary Thayer. "In this way, winners are chosen by real users who really love the product. And both the nominees and winners are respected in the mobile industry as the 'stars' to watch."
"We're honored to be recognized by readers of Go Mobile with these awards," said Robert Gadd, OnPoint Digital's President. "We're excited that others in the mobile community see our CellCast Solution as a valuable enterprise tool in the mobile learning and communications field."
OnPoint's CellCast Solution provides the ability to prepare, package, deliver and track content deployed to mobile workers' smartphones and tablet devices. Device-specific CellCast Mobile Apps allow users to download a variety of content types (HTML, videos, podcasts, animated slide presentations, PDFs/ePUBs, others) including tests and surveys. Available apps span all the popular device platforms found in the enterprise today including the latest smartphones and tablets from RIM (BlackBerry® wireless handsets and PlayBook® tablets), Apple (any iOS® device), Google (any Android® device), Microsoft Windows® Mobile and Windows® Phone, and even the latest eBook readers like the Amazon Kindle Fire®. Customers continue to expand their support for mobile initiatives across a variety of disciplines including training, field data collection, tradeshow and event communications, national sales meetings, and mobile marketing campaigns.
About OnPoint Digital, Inc.
OnPoint Digital, Inc. is a leading learning solutions provider dedicated to the development of powerful yet affordably priced eLearning and mLearning tools for the enterprise. OnPoint's innovative and award-winning CellCast® Solution allows companies to easily create, deliver and track mobile content and assessments directly to users' mobile devices. Smartphone learners use customized CellCast Apps to download and sync a wide variety of content types (including video, audio, narrated PowerPoints, HTML and ePUBs) and take tests and surveys on their devices. With CellCast, organizations have a powerful, customizable and secure platform to deliver just-in-time training, learning reinforcement, surveys, and marketing updates. OnPoint's CellCast Solution helps organizations leverage their investment in mobile devices by maximizing their employees' time w ile mobile and ensuring a stable and mature environment for tracking and reporting results.
OnPoint also offers a full-featured Learning Management System software suite for the creation and management of rich-media courseware, assessments, skill tracking and reporting, with numerous options including document management, e-commerce, localization, single sign-on and gamification modules.
About MobileVillage / PDA Inc.
Founded in 1993, MobileVillage is a market and solution development company dedicated to advancing mobile and wireless technology in a wide range of industries. MobileVillage accomplishes this by fostering education and alliances through "Best of Breed" solution identification, event partnerships, an online industry directory, industry job postings, daily online news, its widely respected Go Mobile™ newsletter, a Mobile Mentors™ program, and popular annual Mobile Star Awards™ program. Visit MobileVillage online at http://www.MobileVillage.com.
This year's Mobile Star Awards winners are posted online at http://www.mobilevillage.com/awards.htm.
Copyright © 2011 OnPoint Digital, Inc. All rights reserved.
CellCast is a registered trademark of OnPoint Digital, Inc.
MobileVillage® and the Mobile Star Awards™ are trademarks or registered trademarks of MobileVillage / PDA Inc.
The BlackBerry and RIM families of related marks, images and symbols are the exclusive properties and trademarks of Research In Motion Limited.
Apple, the Apple logo, Mac, Mac OS, Macintosh, iPod and iPhone are trademarks of Apple.
Windows Mobile and Windows Phone are registered trademarks of Microsoft Corporation in the United States and/or other countries.
Kindle and Kindle Fire are registered trademarks of Amazon.
Other company and product names may be trademarks of their respective owners.
###