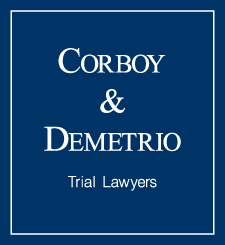 Chicago (PRWEB) December 19, 2011
Thirteen lawyers at the Chicago law firm of Corboy & Demetrio were selected as "Leading Lawyers" by Leading Lawyers Magazine – Consumer Edition. The number of attorneys to attain the prestigious designation is significant because it's more than any other personal injury law firm in the state.
The 13 Corboy & Demetrio attorneys given top honors include: David R. Barry, Jr., Robert J. Bingle, Barry R. Chafetz, Philip Harnett Corboy, Jr., Michael K. Demetrio, Thomas A. Demetrio, Shawn S. Kasserman, Daniel M. Kotin, Kenneth T. Lumb, Francis Patrick Murphy, Susan J. Schwartz, Rene A. Torrado, Jr. and Edward G. Willer. Fewer than five percent of all Illinois lawyers are given the honor, according to Leading Lawyers Network, which publishes the magazine.
In addition, Thomas Demetrio was named one of the Top Ten Personal Injury Lawyers in Illinois by the magazine, ranking second. Mr. Demetrio was also named one of the Top Ten Leading Lawyers in all practice areas in the entire state, ranking third, the publication announced. Mr. Demetrio was again honored by being selected as one of the Top Ten Consumer Lawyers in Illinois, ranking second.
In even further recognition of Corboy & Demetrio lawyers, four partners of the personal injury law firm were selected to the Top 100 Leading Consumer Lawyers in Illinois—more than any other law firm. They include Robert J. Bingle, Philip Harnett Corboy, Jr., Thomas A. Demetrio and Francis Patrick Murphy.
In addition, partner Susan J. Schwartz was chosen as one of the Top 50 Leading Women Consumer Lawyers in Illinois.
Also, Corboy & Demetrio partner Francis Patrick Murphy was profiled in the magazine for his success and experience as a personal injury attorney. Scott Anderson, Publisher of Leading Lawyers Magazine said he selected Patrick due to his "very strong reputation among his peers and the fact that he is often referred to as one of the kindest and nicest lawyers in the state."
The Leading Lawyers Network recognizes attorneys who are leaders within their area of law. The four-phase selection process begins with a survey of every lawyer listed in Sullivan's Law Directory, then follow-up interviews with the lawyers most frequently nominated, continuing to an ethical evaluation of those attorneys, and finally an intensive review by the Leading Lawyers Network Advisory Board.
About Corboy & Demetrio
Corboy & Demetrio is one of the nation's premier law firms. It represents individuals and their families in serious personal injury and wrongful death cases and is renowned for its achievements in the courtroom and for its contributions to the community. The rights and concerns of its clients are at the core of Corboy & Demetrio's practice. That commitment, dedication, compassion and relentless drive has resulted in exceptional service and exceptional results for its clients. The firm has acquired more than $3 billion in settlements and verdicts and has attained almost 600 settlements and verdicts in excess of $1 million. To speak with Thomas Demetrio or any other attorney at Corboy & Demetrio, call 312.346.3191 or toll free at 888.364.3191.
###