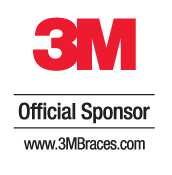 We are so pleased to continue our support of Smiles Change Lives and see the organization grow and thrive.
Kansas City, MO (PRWEB) December 18, 2011
3M is a corporation known for promoting healthy smiles through their cutting-edge technology and support of their orthodontic customers. Equally noteworthy is their unwavering dedication to assisting youth and families in need. For the fourth year in a row, 3M has renewed its support of Smiles Change Lives (SCL) as an Official Sponsor of this national nonprofit organization. SCL is a national orthodontic charity committed to providing essential orthodontic treatment to children from low-income families.
"We are so pleased to continue our support of Smiles Change Lives and see the organization grow and thrive. It's heartwarming to see how many new orthodontists are taking part in helping less fortunate children with the help of SCL," shares Mike Lane, Vice President, US Sales & Marketing, 3M Unitek.
3M' s past support was key in expanding SCL's network of orthodontic providers, which now totals close to 600 orthodontists nationwide. The company is a proponent of a number of SCL program initiatives and provides product support to SCL's partner orthodontists.
"In order to serve several hundred more children in 2012 and address our backlog of applicants on our waiting list, Smiles Change Lives will need several hundred additional orthodontic providers," shares Andrea Umbreit, Director of Marketing and Communications for Smiles Change Lives.
"Working with 3M for the past three years has been a tremendous asset in reaching caring doctors nationwide. Their support in 2012 is not only a sign of their dedication to our mission, but also their desire to help SCL achieve another record-breaking year of service to families in need," adds Ms. Umbreit.
In 2011, SCL will serve 700 children nationwide. With the support of the program's corporate sponsors, including 3M, SCL hopes to put 900 children on the path to healthy, happy smiles in 2012.
SCL is in need of orthodontists to help meet the needs of families nationwide. For more information on becoming a provider or how 3M supports SCL providers, please email provider(at)smileschangelives(dot)org or visit http://www.smileschangelives.org/learnmore.
Founded in 1997 in Kansas City, MO, Smiles Change Lives (SCL) serves children, ages 10-18, nationwide. To qualify for SCL, families must meet several program guidelines and demonstrate financial need. With a growing demand nationwide, SCL's vision is to provide access to braces for all youth suffering from crooked teeth and misaligned jaws. Since its founding, SCL has created more than 1,500 healthy smiles. Interested families are encouraged to view program guidelines and download an application at http://www.smileschangelives.org/apply.
###