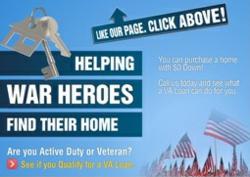 It is an honor to help a hero in need, and it is a great opportunity for our company to give back to those who served in our country's armed forces. (Garrett Puckett)
Houston, Texas (PRWEB) December 17, 2011
Garrett Puckett and Sebastian Burfitt from Security America Mortgage, Inc, proudly announced the company's additional services which were added to focus on the newly launched Houston VA Loan Services website for Veterans in Houston, Texas on December 16, 2011.
Security America Mortgage jointly partners up with Security America Realty, Inc., which just means both companies work together to bring homes to veterans at an alarming and impressive pace. Having such vast experience in both the Mortgage and Real Estate industries gives Security America Mortgage, Inc. the competitive advantage in delivering services that not only make their process quick, it makes their entire operation easy to understand for any potential home buyer.
The Houston Real Estate Agents in Houston really know how to work beside military men and women, and they make it their priority to locate the best property that meets any military service members' lifestyle. As buyers take their time to make the right home selection, the Real Estate Agents wait patiently, advising as needed all while the VA Loan Specialists are in the background processing your VA loan requests from beginning to end. Together these groups work with the client on a personal level every step of the way, enabling a swift VA Home Loan application process and VA approval.
Everyone within the company of Security America Mortgage, Inc. are excited about the new location specific website for Houston, and they put all of their effort into reaching a common goal - which is to close on VA loans having the lowest interest rates for as many military service members possible. Burfitt and Puckett reveal a sneak peek into many more websites for the entire country's states to come.
Now more than ever, the VA Loan Specialists (who work exclusively with the clients during the VA loan process) can hone in on providing excellent veteran services that match the needs for the military service members wishing to live within the Houston specific areas. Burfitt and Puckett expressed how pleased they both are to develop a plan to launch the new website, as well as their eager plans to target other locations and build more area specific website that will help boost the service level offered by Security America Mortgage, Inc.'s VA Home Loan Mortgage Experts.
With the personalized services added to the new Houston VA Loan website, Security America Mortgage, Inc. will continue to innovate more creative strategies that keep military members and veterans happy in the future. The low, fixed interest rates offered on the VA home loans combined with the specialized services keep the home buying experience for veterans and military personnel exciting and easy. The company plans to launch over 150 more websites within the year 2012, which is intended for the same outcome - to grow the savings by owning a home using VA loans.
All in all, Security America Mortgage's MISSION is to make all veterans and active duty military personnel (different and alike) feel right at home during their transition from living on base to buying a home in the United States of America. By using VA loans, Security America Mortgage can deliver just that. "It is an honor to help a hero in need, and it is a great opportunity for our company to give back to those who served in our country's armed forces." said Puckett (2011).
See if you qualify for a VA Home Loan now!
# # #