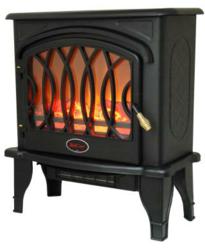 Santa Ana, CA (PRWEB) December 19, 2011
RedCore has added a new electric fireplace stove to its popular line of space heaters this season. Leading the wave in new infrared technology is the Redcore 15602 S-2 infrared electric fireplace stove heater, which is the first stove heater to offer energy-efficient radiant heat. It is a great portable unit that gives customers a green heating solution with a ton of personality.
The Redcore 15602 S-2 infrared electric fireplace stove is designed to look like an old-fashioned wood burning stove. Instead of firewood, however, customers use dial controls for instant radiant heat with a burst of light effect flames. They get atmosphere and warmth without the mess or hassle. This infrared stove also requires no permanent installation and plugs into any standard outlet.
Infrared radiant heat is the top of the line in heating solutions because it works instantly, silently and cleanly. Infrared rays warm objects directly so there is no heat loss or blowers to disturb the air. Infrared heaters are a great way to efficiently heat only the rooms being used, saving users money on their utility bills.
The Redcore 15602 S-2 infrared electric fireplace stove heater comes in a matte black finish that will complement any decor. Even though the Redcore 15602 S-2 has a compact and space-saving design, it is still powerful enough to heat to rooms up to 750 square feet.
Key Features and Benefits:

120V system operates on both 750 and 1500 watts
PTC infrared element with lifetime warranty on heating element
Independent on/off switches for heat and flame effect
Flame intensity control lets you adjust the flickering flames
Adjustable thermostat provides personalized comfort
Safe to use with CSA certification
Redcore's new stove heater is ideal for large bedrooms, living rooms and small apartments. It provides the charm of a wood-burning stove with the safety and convenience of an electric space heater, making it the ultimate in heating comfort.
The Redcore 15602 S-2 is offered at an affordable price exclusively through the authorized online retailer Air-N-Water.com.
Air & Water is one of the nation's largest independent retailers of home appliances and heating/cooling products. Go green and join the infrared revolution with the new Redcore 15602 S-2 infrared electric stove heater
###