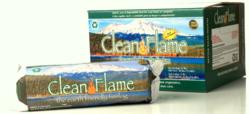 (PRWEB) December 18, 2011
CleanFlame Fire Logs & Firestarters was recognized for its green initiatives. On December 13, 2011, The California Department of Resources Recycling and Recovery (CalRecycle) announced recipients of this year's waste reduction awards. CleanFlame was recognized through the Waste Reduction Awards Program (WRAP) for their environmentally friendly business strategies.
"This year's WRAP winners are evidence that businesses and organizations of all sizes are achieving significant waste reduction and recycling goals, all while helping protect the environment and preserve our natural resources," CalRecycle Director Caroll Mortensen said. CleanFlame's efforts have resulted in a WRAP award for the third consecutive year.
Additionally, the department is currently working to develop strategies and recommendations to help meet the state's new goal of diverting 75 percent of solid waste from landfills by 2020. Recycling plays an important role in the battle against climate change by reducing the amount of waste material that decomposes in landfills and generates methane, a greenhouse gas that is 23 times more potent than carbon dioxide. Turning old items into new value-added products also saves energy and resources. "CleanFlame has diverted approximately 10,000,000 pounds of solid waste over the last year, which is something that we are proud of," said CleanFlame CEO Kory Hamman. "Our goal is exponentially increase this amount year after year and do what we can to help save the environment while producing quality products the consumer prefers."
CleanFlame makes eco-friendly firelogs and firestarter products from non-recyclable wax boxes that would normally go to a landfill. CleanFlame diverts the wax boxes to their facility and turns them into a cleaner-burning fuel source using a patented extrusion process. The products burn cleaner, hotter and more consistently than oak firewood and offer more uses than traditional wax-sawdust firelogs. Tests revealed that, when compared to a seasoned oak log (which is the best firewood), a Cleanflame firelog provides 50 percent more BTUs, and emits 86 percent less creosote, 80 percent less carbon monoxide, and 30 percent less particulate matter.
In addition to many other stores, CleanFlame is now selling products in the following stores/chains: Kroger, Safeway, Supervalu, Winco, Savemart, Raleys, Stater Bros, Shop Rite, Demoulas, Albertsons, ACE and Food4Less. Specific information as to stores carrying the product in your area can be viewed at the company website located at http://www.CleanFlame.com.
# # #