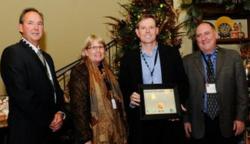 "Inovative product that is cleaner-burning than regular firewood."
(PRWEB) December 23, 2011
The Innovation Scorecard is a study to determine the region's readiness to accept and grow innovation as a key driver of improving the local economy. The ceremony also included recognizing local innovative businesses that have contributed to job growth in the area with an Innovation Certificate of Merit Award. "We are excited to have received the Innovation Award. It is always nice for CleanFlame to be recognized for its efforts at not only providing green products, but providing jobs and helping save the environment as well," said CleanFlame CEO Kory Hamman.
CleanFlame is a leading manufacturer of high quality ultra-clean burning fire logs and fire starters made from 100% recycled materials. CleanFlame's patented production process converts used waxed old corrugated containers (WOCC), that would normally end up in landfills, into clean-burning firelogs and firestarters that are safe enough to cook over. Clean Flame's clean-burning products, used in fireplaces, home heating and indoor/outdoor cooking environments, reduce landfill waste, create zero impact on non-renewable or rainforest resources, and produce 80% less carbon monoxide, 86% less creosote, 30% less particulate matter and 50% more heat/lb than wood.
In addition to many other stores, CleanFlame products can now be found in the following stores/chains: Kroger, Safeway, Supervalu, Winco, Savemart, Raleys, Stater Bros, Shop Rite, Demoulas, Albertsons, ACE and Food4Less. Specific information as to stores carrying the product in your area can be viewed at the company website located at http://www.CleanFlame.com.
###