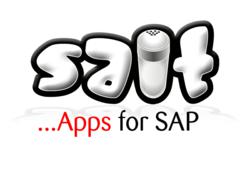 Having Rev-Trac installed is not a requirement to run our Salt platform and access the powerful change intelligence information Salt reveals, but this integration delivers great extra benefits to our Rev-Trac customers.
Melbourne, AU (PRWEB) December 19, 2011
Revelation Software Concepts Pty Ltd (RSC), creator of the widely used Rev-Trac® change control technology for use with SAP® solutions, today announced that Rev-Trac is now integrated with the company's popular Salt Apps™ collection of utilities to enhance visibility into all custom ABAP™ code. Rev-Trac users who have Salt Apps installed can click seamlessly between Salt Apps and Rev-Trac to gain more detailed visibility into custom ABAP code and its change request context.
More granular visibility helps a team complete necessary tasks more quickly and easily, enabling faster delivery of requested requirements to the business. Conflicts between objects no longer stall teams while they seek resolutions. For example, if Rev-Trac issues an OOPS (Overtake and Overwrite Protection System) error report, the team can research the problem object in Salt, compare object versions and quickly determine the potential impact. The Salt Matrix utility will show context around object versions, while clicking on the Rev-Trac request details will reveal how and where the sequence errors occurred. Painstaking manual code comparisons are eliminated.
"Having Rev-Trac installed is not a requirement to run our Salt platform and access the powerful change intelligence information Salt reveals, but this integration delivers great extra benefits to our Rev-Trac customers," said Rick Porter, Vice President of Business Development at RSC. "A Rev-Trac customer with Salt can drill down quickly into custom code and examine object versions, or drill out directly to change request details to see the context. It helps you resolve object conflicts quickly and accurately by understanding the exact nature of the object changes in question."
David Gordon, CIO at RSC, notes that this integration is just the initial phase of the project. "With Phase I, Salt Apps are accessible by clicking directly over to Salt from the Rev-Trac screen and vice-versa," David explains. "In future releases, we'll bring the Salt Apps themselves into the Rev-Trac screen so they run directly, adding an on-demand level of detail to any Rev-Trac change control information screen."
He adds, "If you haven't already installed Salt, this is the perfect time. You can still take advantage of the '3 For Free' offer and gain a permanent free Salt license for three SAP systems, including a free 30 minute web-based training session, until the end of the year."
The Salt 1.8 "3 for Free" promotion ends December 31, 2011. The integration is compatible with Rev-Trac version 5.0 DEV Core component 09 (Released 2006) onwards, including the current Rev-Trac 6. Current Rev-Trac users with Salt already installed should update to Salt 1.8 to gain the Rev-Trac integration benefits.
To download and install the free Salt v1.8 platform, including any or all of the useful Salt Apps that it powers, visit the Salt Apps site, http://www.saltapps.com. Salt requires no additional Rev-Trac configuration or logons to make the integration useful – it just works.
Complete information on the Salt Apps suite of available tools can be found at http://www.saltapps.com. A comprehensive set of Salt Apps demonstration videos can be viewed at the Salt Apps YouTube Channel. Information on RSC, its products and services can be found at http://www.xrsc.com.
About Revelation Software Concepts
Revelation Software Concepts (RSC) specializes in change control management for use with SAP solutions, developing market-leading technology to reduce the risks and lower the costs of delivering changes into information systems. Since RSC was founded in 1997, some of the world's largest companies have come to rely upon its mature change control solutions. Its deep expertise and responsive support have made RSC the leading change-control specialist for SAP solution-based infrastructures around the globe. RSC is 100% SAP-focused and its flagship change control solution, Rev-Trac, is certified as powered by the SAP NetWeaver® technology platform. Rev-Trac supports change control for both ABAP™ and non-ABAP technologies, reflecting RSC's commitment to technologically innovative change control solutions that serve current market needs. For more information, visit http://www.xrsc.com.
Note to Editors— Rev-Trac and Salt Apps are trademarks or registered trademarks of Revelation Software Concepts Pty Ltd. SAP, ABAP, SAP NetWeaver and all SAP logos are the trademarks or registered trademarks of SAP AG in Germany and in several other countries. All other trademarks or registered trademarks are the property of their respective owners.
###