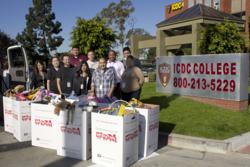 "Our participation in the U.S. Marines Toys for Tots campaign is timely, especially because the troops are returning home and military families are in need of these type of services more than ever."
Los Angeles, CA (PRWEB) December 19, 2011
ICDC College and America ICARE Foundation, a new non-profit organization whose mission is to provide caring, ongoing support for military personnel and their families, joined forces this month with the U.S. Marines Toys for Tots Foundation to help make the season a little brighter for military children in need.
Together, the two organizations rolled out a special two-month holiday campaign over the months of November and December that will provide hundreds of toys to children who might not otherwise get presents for the holiday season. ICDC College's four campuses in Hollywood, Huntington Park, Van Nuys, South Bay and its corporate office located in Culver City were collection centers for all the toys. The toys were collected on December 16th and will be distributed at the Los Alamitos Joint Forces Training Base in time for Christmas.
Toys for Tots have helped bring holiday cheer to millions of disadvantaged children since its inception in 1947. At that time, Major Bill Hendricks and a number of Marine Reservists in Los Angeles distributed over 5,000 toys to needy children. Shortly thereafter, a national campaign was underway, and in 1995 the Secretary of Defense approved Toys for Tots as an official campaign of the U.S. Marines Corps and mission of the Marines Corps Reserve.
U.S. Marines Staff Sargent Angel Cotto says he is thrilled that ICDC College and America ICARE made this holiday a happier one for those in need. Last year, the Toys for Tots campaign collected more than 83,000 toys for poverty-stricken children in the Orange County/Los Angeles region.
"We encouraged everyone to help us collect more toys this holiday season than we ever did before," says Staff Sgt. Cotto. "Marines will be distributing toys donated by many organizations—all for children living in poverty. We want to make sure we put a smile on each kid's face!"
Eric Rubenstein, an America ICARE board member, was pleased that his organization could partner with ICDC College for this special effort to benefit military children. "Our participation in the U.S. Marines Toys for Tots campaign is timely, because the troops are returning home," says Rubenstein. "Especially now, military families are in need of services such as those provided by Toys for Tots year after year."
About ICDC College
ICDC College offers Associate's Degree programs and Fast-Track Diploma programs online in careers such as Alcohol and Drug Counseling, Homeland Security, Forensic Science, Health Care Management, and Business Management and Accounting. ICDC College also offers over 24 diploma/certificates on campus including Alcohol and Drug Counseling, Homeland Security and Investigation, Medical Assistant, Pharmacy Technician, Computerized Accounting, Medical Office Management, Physical Therapy Aide, Dental Technician, and many more. ICDC College, in affiliation with Los Angeles Unified School District, offers G.E.D. and ESL classes for its students and the general public as a community service. ICDC College has multiple campus locations throughout Southern California. Government Financial Aid, including Veteran benefits, is available for those students who qualify. ICDC College is accredited by the Accrediting Commission of Career Schools and Colleges and is approved by the Department of Veteran Affairs as an Institution of Higher Learning (IHL). ICDC College is named as a 2012 Military Friendly School and ranks among the top 20% of all colleges, universities and trade schools which are doing the most to embrace America's veterans, as reported by G.I. Jobs. For more information about ICDC College, call 1-888-592-4232 or visit http://icdccollege.edu. For more information about our graduation rates, the median debt of students who completed the programs, and other important information, please visit http://icdccollege.edu.
Media Contact: Lisa McGloiry, J.D., Director of Corporate Communications and Public Relations, ICDC College, Phone: 877-516-3039 / Email: lisa(dot)mcgloiry(at)icdccollege(dot)edu
###