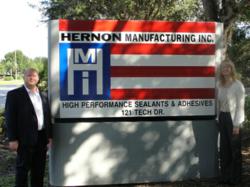 We're growing too fast to wait for the construction of our new manufacturing plant.
Sanford, FL (PRWEB) December 21, 2011
Hernon Manufacturing, the innovator in adhesive and sealing technologies, recently announced it has leased an additional 3,000 square feet of office and manufacturing space to facilitate its rapid growth.
Currently, Hernon is housed in a 25,000 square-foot facility in which they produce over 5,000 high performance adhesives and sealant products as well as manufacture precision dispensing equipment.
In October, Hernon announced its plans to hire 15 to 20 additional employees as well as build and expand into a 100,000 square-foot plant by year end 2013. The new building and equipment will enable the company to triple its production capacity.
"We're growing too fast to wait for the construction of our new manufacturing plant," said Harry Arnon, CEO of Hernon Manufacturing. "This additional space is a stop-gap to give us some more elbow room while our new facility is constructed."
In addition to receiving a large ammunition dispensing equipment order earlier in the month, Hernon Manufacturing also recently announced a new Florida distributor, Miller Bearings. This new distributorship is expected to enhance product awareness as well as increase orders for adhesives, sealants and dispensing equipment.
About Hernon Manufacturing
Hernon Manufacturing has been committed to delivering world class adhesive, sealant, and impregnation solutions along with precision dispensing systems for nearly four decades. A long-time member of Central Florida's industrial manufacturing community, Hernon offers strong brands and technologies, all made in the United States, for a diverse range of industries including: Energy/Power Generation, Medical, Electronics, Electrical, Automotive, Appliances, Sporting Goods, Ammunition, Communications, Aerospace, Aviation, High Tech Audio, Defense, Fire Suppression, Transportation, and Marine. Hernon Manufacturing is proud to be an ISO-9001 registered company whose products meet or exceed Mil-Specs. Hernon Manufacturing has been recognized as a top company in Orlando and is listed in the Orlando Business Journal's 2011 Book of Lists.
Media Contact:
Edgardo Rodriquez
Director of Sales and Marketing
(407) 322-4000 ext. 314
###